Laytown Racecourse has to be the most unique and spectacular racecourse in Ireland. And you can watch the beach racing with a Laytown races live stream free of any subscription charges.
Read on to see how to get live streaming video access for every horse race held at the course.
How to Watch This LIVE Racing
#ad
1)
Sign up
to
bet365 here
if you are not already a member
2) Follow the 'Live Streaming' link and open the Schedule where you will see 'All Sports' > 'Horse Racing'
EVERY race in the UK and Ireland is streamed live
at bet365. They show all races shown on At The Races
and
Racing TV.
For additional/alternative viewing options, read on below under Legal Live Streams.
You can also watch replays of all UK and Irish races covered by Racing TV and At The Races for free on their Horse Racing Archive at bet365.
Only available to eligible customers. To watch a UK race streamed on At The Races you must have a funded account or have placed a bet in the last 24 hours. To watch any other racing that is not provided by At The Races from a UK track, you must place a qualifying bet of at least £0.50 win or £0.25 Each-Way (or currency equivalent) on your selection(s).Terms & conditions and geographical restrictions apply. Registration required. #ad 18+ gambleaware.co.uk
Laytown Upcoming Live Streamed Races
Laytown Course Overview
The racing actually takes place on the beach at Laytown, County Meath; It's the only course of the sort to run on a beach under the Rules of Racing.
The flat racing venue is top of many racing fans courses to visit. That's clearly because the opportunity to see racing there is so scarce; They host just one meeting per year.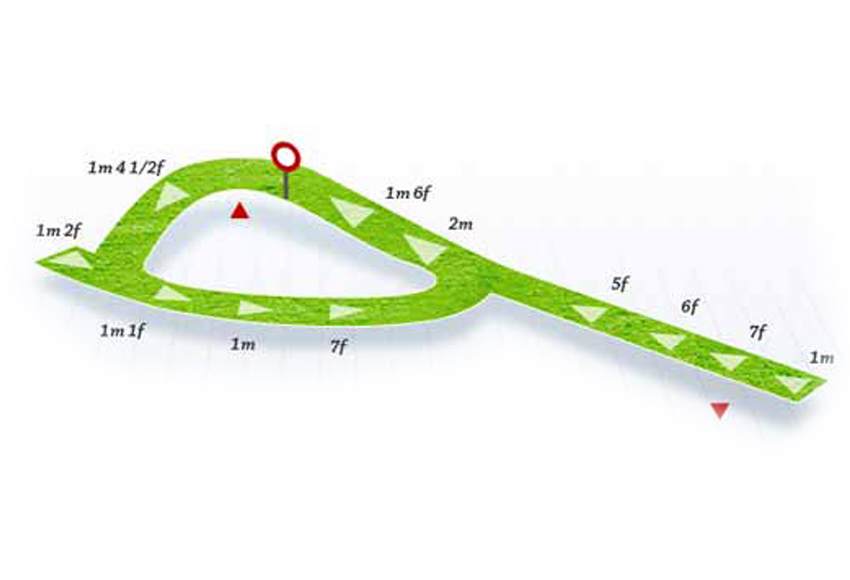 The course itself is simply a seven furlong long straight that is, obviously, extremely flat. The ground is wet sand and therefore most horses have probably never run on that surface before.
However, it has been noted that the ground is essentially firm; Therefore, the horses that like fast ground are more than capable of performing on the beach surface.
Due to the wet sand surface, the races always are started by a flag start rather than from starting stalls; That's due to the difficulty in getting them down to the beach and also the weight.
This start can cause several difficulties because sprinters aren't used to not starting from gates and therefore often learning on the job. Sometimes horse become confused, fluff the start and lose precious lengths from the off.
Obviously, there isn't a draw bias at the course. And there isn't a particular type of horse that the track favours because it is simply a straight run.
Former Course
The course did previously build a two mile long circuit rather than a short sprint, but a major incident in 1994 meant that the structure of the track had to be rejigged.
The course was a large U-shape, with fans standing a matter of metres from the side of the track. This was soon changed after a horse became disoriented and charged into the nearby spectators.
Sadly, several serious injuries were caused to both members of the public and the horses themselves. Nowadays, fans watch from the neighbouring field. They still get a perfect view of the course, just from a safe distance away.
Viewing at Laytown Races
The venue is built on the morning of the meeting when the tide has gone about. It means that the planning behind the days racing is both thorough but also minimal. Every worst case scenario is catered for by keeping the equipment to the minimum to avoid any further risks of mishaps.
Instead of building permanent facilities once a year and having them damaged by the sea for the other 364 days of the year, any buildings required are constructed of marquees. Thus, weighing rooms, changing rooms and cafes all have an entirely new feel to them than a normal race day.
Those visiting the Laytown races have often been waiting for many years to experience what it truly is like; The reality of being there can exceed all of their expectations.
The sight of horses galloping along the seashore against a backdrop of rolling waves is surreal. Those who get to experience it in the flesh are incredibly lucky.
For those looking to add to their bucket list for a great day out, then Laytown races is up there. It doesn't take a racing enthusiast to appreciate the true beauty of horses running along the shore. Also, on a track that has been built just a matter of hours before the racing has begun.
If you are ever fortunate enough to be within a chance of getting tickets to Laytown races or are lucky enough to be offered the opportunity to attend then you should definitely take the chance with both hands.
The standard of racing on offer is also of a good standard due to new safety regulations. These state that runners must be experienced to ride at the course and not rely on headgear to perform.
Laytown Race Stream Highlights
Here are some of the races that you can watch in the Laytown races live racing stream:
| Month | Live Streamed Race | Distance |
| --- | --- | --- |
| September | Gilna's Cottage Inn Pride Of PLace Maiden | 7 Furlongs |
| September | O'neills Sports Handicap | 7 Furlongs |
| September | Bohan Hyland & Associates Handicap | 6 Furlongs |
| September | Scotch Hall Shopping Centre Claiming | 7 Furlongs |
| September | Hibernia Steel | 7 Furlongs |
| September | @Melbourne10racing Handicap | 6 Furlongs |
Legal Live Streams
The live streams that we feature here on StreamingSport.net are 100% legitimate and legal. There is not much point in taking a risk using one of the low-quality streaming services that abound.
It's much more important to do things the right way and keep your computer or mobile device free of viruses.
How it Works
We connect you with the leading sites that telecast live streams of horse racing events. They have already paid for the legal rights to broadcast them, so you might as well take advantage of it.
Further Live Stream Options
More legal live streams for horse racing can be found at the following sites. Similar conditions apply (i.e. having a deposit active or a bet in the past 24 hours):

– William Hill
– Betfred
– Coral

Last updated December, 2023
Here's the ideal way to get ready for the Laytown races live stream.
Watch this highlight reel from 2018 of their annual Laytown races. Despite the surface being different, the races are still incredibly competitive and can produce some great finishes.
Laytown Races Live Stream FAQs
🎥 Do I need to pay a subscription for the Live Stream?
No, there is no subscription charge. You'll need to register on the site first, which only takes a minute.
🏇 Are there other races available, too?
Yes, there are many other races that you can watch – just take a look at the schedule.
⌚ When will the race coverage start?
The race coverage begins approximately two to three minutes before the race is scheduled.