Punchestown Racecourse is located in Eadestown, near Naas. The course is famous for the National Hunt racing it showcases; It's the only type of racing held there and racing fans can watch a Punchestown live stream free of any subscription charges.
Check the details below to get access to all of the live streaming action.
How to Watch This LIVE Racing
#ad
1)
Sign up
to
bet365 here
if you are not already a member
2) Follow the 'Live Streaming' link and open the Schedule where you will see 'All Sports' > 'Horse Racing'
EVERY race in the UK and Ireland is streamed live
at bet365. They show all races shown on At The Races
and
Racing TV.
You can also watch replays of all UK and Irish races covered by Racing TV and At The Races for free on their Horse Racing Archive at bet365.
Only available to eligible customers. To watch a UK race streamed on At The Races you must have a funded account or have placed a bet in the last 24 hours.
To watch any other racing that is not provided by At The Races from a UK track, you must place a qualifying bet of at least £0.50 win or £0.25 Each-Way (or currency equivalent) on your selection(s).Terms & conditions and geographical restrictions apply. 18+ gambleaware.co.uk
Punchestown Upcoming Live Streamed Races
| Date | Time | Race | Class | Distance |
| --- | --- | --- | --- | --- |
| 25 APR 2023 | 18:00 | Goffs Defender Bumper | - | 2m 100y |
With racing being hosted in Punchestown since 1824, the area has become increasingly fond of racing. Those who attend the course seem to do it almost religiously, and there are seventeen fixtures per year.
The course also has its very own horse racing festival, the Punchestown Festival. It can be described as being the equivalent to Cheltenham, only in Ireland.
Punchestown Course Overview
The course has two separate tracks for National Hunt racing, the chase track and the hurdles track, with both courses having differing characteristics and level of difficulties.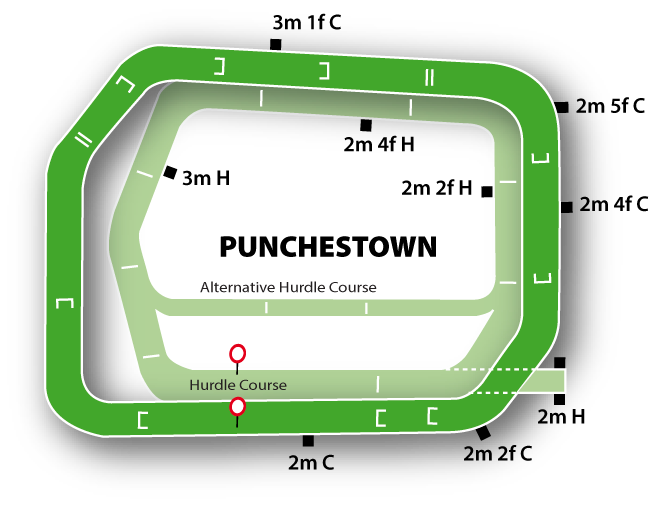 The chase circuit is a true test of stamina and jumping ability. It is a right-handed, square course that has eleven fences to a full circuit, with those fences being stiff but fair.
The fences rarely cause issues for many experienced jumpers, with the main test for them (and the rest of the field) being the uphill final five furlongs; This can truly catch out those who have nothing left to spare after their trip.
The hurdles course runs along the inside of the chase circuit and is seen as a much more difficult test. The ground on the track isn't as flat on this track and rather more undulating; This means that when the similar uphill final furlongs do come around, the best travellers always shape as the most likely winners.
Due to the home straights on both courses being uphill, the course rather favours the more prominent and handier types.
The course doesn't require you to be a frontrunner to win, rather than if your horse prefers to run off the pace and towards the backend of the field then they must be a strong traveller to make up the ground required on an uphill climb.
The inside rail is also a preferred spot due to how runners can cut out a lot of the ground on the corners, especially as the bends are longer rather than sharp, so you will often see jockeys fighting for the rail for the entire trip.
Viewing at Punchestown Racecourse
The views at Punchestown Racecourse are very racing orientated, with the course being left in solitude. However, this true isolation from neighbouring buildings or forests does mean that meetings at the venue have been abandoned for heavy winds as there is no protection.
The backdrop of hills and fields makes both the perfect photo, and a good colour difference to the horses as they travel round the course.
The grandstand easily has the best seats/standing spots in the entire course. The flat-topped building can become incredibly packed at the big meetings and it is crucial to get there early and secure a good spot.
From the grandstand there is a great view of the finish line, the home bend and also the hustle and bustle on the concourse – which is entertaining viewing too!
Those fortunate enough to go to Punchestown Racecourse are incredibly lucky, especially if they get to attend the festival itself. They will see some of Ireland's best horses battling it out for the prize pots.
They'll also have the opportunity to be at the heart of the roaring crowds that are inevitable at those big meetings.
Punchestown Race Calendar Highlights
The highlight of the Punchestown Racecourse racing calendar is unquestionably the Punchestown Festival. The festival takes place over five days and hosts consistent Grade 1 standard racing.
There are plenty of recognisable races that take place at the festival. These include: Champion Chase, Champion Novice Hurdle, Punchestown Gold Cup, Champion INH Flat, Ryanair Novice Chase, Punchestown Champion Hurdle and Mares Champion – and that's leaving out a few other significant races.
The Punchestown Gold Cup is a Grade 1 steeplechase that takes place on the Wednesday of the festival. The three mile race is open for those that are five years old or older, with mares receiving a seven pound weight allowance.
In 2019, Willie Mullins' Kemboy battled well to assert his dominance over stablemate Al Boum Photo; However, the latter went on to win the actual Gold Cup after Kemboy unseated at the first. He then went on and beat Kemboy again in the 2020 Gold Cup after he could only manage seventh.
| Month | Live Streamed Race | Distance / Meet |
| --- | --- | --- |
| January | Moscow Flyer Novice Hurdle | 2 Miles |
| February | Tied Cottage Chase | 2 Miles |
| April | Growise Champion Novice Chase | Punchestown Racing Festival |
| April | Punchestown Champion Chase | Punchestown Racing Festival |
| April | Herald Champion Novice Hurdle | Punchestown Racing Festival |
| April | Punchestown Gold Cup | Punchestown Racing Festival |
| April | Champion INH Flat Race | Punchestown Racing Festival |
| April | Irish Daily Mirror Novice Hurdle | Punchestown Racing Festival |
| April | World Series Hurdle | Punchestown Racing Festival |
| April | Ryanair Novice Chase | Punchestown Racing Festival |
| April | Punchestown Champion Hurdle | Punchestown Racing Festival |
| April | Tatterstalls Ireland Champion Novice Hurdle | Punchestown Racing Festival |
| April | Champion Four Year Old Hurdle | Punchestown Racing Festival |
| May | Mares Champion Hurdle | 2 Miles 2 Furlongs |
| October | Buck House Novices Chase | 2 Miles 2 Furlongs |
| October | Grabel Mares Hurdle | 2 Miles 2 Furlongs |
| October | Daily Star Chase | 2 Miles 7 Furlongs |
| November | Craddockstown Novice Chase | 2 Miles |
| November | Morgiana Hurdle | 2 Miles |
| November | Florida Pearl Novice Chase | 2 Miles 6 Furlongs |
| December | John Durkan Memorial Punchestown Chase | 2 Miles 4 Furlongs |
Legal Live Stream
The live streams that we feature here on StreamingSport.net are 100% legitimate and legal. There is not much point in taking a risk using one of the low-quality streaming services that abound.
It's much more important to do things the right way and keep your computer or mobile device free of viruses.
How it Works
We connect you with the leading sites who telecast live streams of horse racing events. They have already paid for the legal rights to broadcast them, so you might as well take advantage of it.
Here's an ideal way to prepare for the Punchestown horse racing live stream.
Watch one of Punchestown's most unbelievable finishes; The Storyteller somehow finished first despite looking like the most unlikely winner coming into the second to last jump! One unlucky faller, one brought down, one ran out and one hampered out. – Watch how it all unfolded below…
Punchestown Live Stream FAQs
🎥 Do I need to pay a subscription for the Live Stream?
No, there is no subscription charge. You'll need to register on the site first, which only takes a minute.
🏇 Are there other races available, too?
Yes, there are many other races that you can watch – just take a look at the schedule.
⌚ When will the race coverage start?
The race coverage begins approximately two to three minutes before the race is scheduled.