Ballinrobe Racecourse is a National Hunt and flat racing course situated in County Mayo. Fans of horse racing can watch a Ballinrobe races live stream free of any subscription charges.
Follow the details below which show you how to get access to the live streaming action.
How to Watch This LIVE Racing
#ad
1)
Sign up
to
bet365 here
if you are not already a member
2) Follow the 'Live Streaming' link and open the Schedule where you will see 'All Sports' > 'Horse Racing'
EVERY race in the UK and Ireland is streamed live
at bet365. They show all races shown on At The Races
and
Racing TV.
For additional/alternative viewing options, read on below under Legal Live Streams.
You can also watch replays of all UK and Irish races covered by Racing TV and At The Races for free on their Horse Racing Archive at bet365.
Only available to eligible customers. To watch a UK race streamed on At The Races you must have a funded account or have placed a bet in the last 24 hours. To watch any other racing that is not provided by At The Races from a UK track, you must place a qualifying bet of at least £0.50 win or £0.25 Each-Way (or currency equivalent) on your selection(s).Terms & conditions and geographical restrictions apply. Registration required. #ad 18+ gambleaware.co.uk
Ballinrobe Upcoming Live Streamed Races
Next up we'll provide an overview of the Ballinrobe racecourse and outline what to watch on the live streaming service.
Ballinrobe Course Overview
This westerly track is fairly small despite being dual-purpose, however that doesn't stop it from having its admirers and regular fans; In 2012, Ballinrobe Racecourse was awarded Racecourse of the Year by the Irish Racegoers Consultative Forum.
Given the size of the facilities, and the fact there are only nine meetings per year, the venue doesn't stage consistent listed and graded level races. However, every now and then a top prospect does arrive at Ballinrobe as part of their path to the top.
Flat Course
The flat course is a compressed oval, almost like a bullet shape. The bends can be very sharp depending on the distance the race is run over.
The course does favour the pacy frontrunners given how the sharp bend coming on to the one furlong long home straight is difficult to make up ground on. And, if you're without an instant turn of foot, the short straight means that infrequently horses are caught up with there.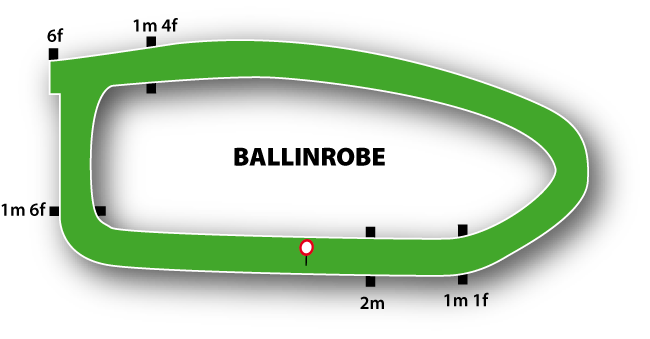 A low draw is always handy at Ballinrobe, especially for six and seven furlong races where the swooping bend comes around quickly. That's because they can secure a strong position against the rail and then push on when their jockey decides to urge them onwards.
Jumps Course
Unsurprisingly, the National Hunt circuit is incredibly like the flat course in terms of shape and sharpness. However, the National Hunt side of Ballinrobe has two tracks: an old track and a new one.
The old track is a tight track and really plays to the advantage of those who have the inside rail. The sharpness of the bend coming on to the home straight is also a standout feature.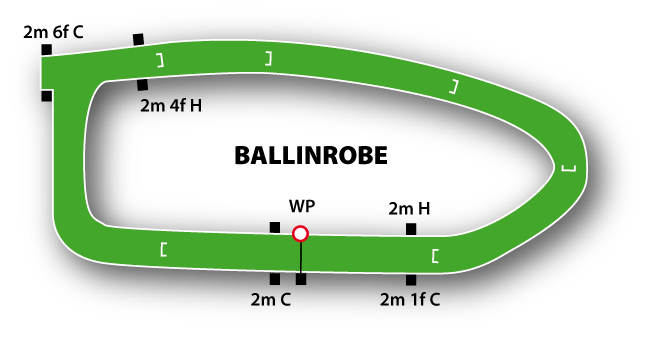 Jockeys who are caught going too fast heading into the bend often lose plenty of lengths when they try and turn as they have overshot it. Therefore, having the inside rail keeps runners pinned in and decreases the risk of that happening.
The new track runs alongside the outside of the old track. As a consequence it loses the sharpness of the circuit which makes it a fairer and more galloping track. Both tracks have an uphill back straight and downhill finish of two and a half furlongs.
Similarly to the flat track, the run-in is just one furlong long and are free of hurdles and fences. Saying that, many would argue it wouldn't make a difference if there was a fence present in that final straight because they are the simplest fences in racing to get over.
Views at Ballinrobe Racecourse
When you watch the Ballinrobe racing live stream you may notice that the only track in County Mayo has views that are nothing less than stunning.
The course has been placed in a prime location to allow it to drain well and keep the grass looking luscious and clipped. It has to be said that the groundskeepers do an impeccable job considering how many miles of greenery the venue has.
The racecourse looks simple but effective; it has a large, accommodating grandstand matched with a traditional building to blend in with the neighbouring stables and buildings.
The grandstand looks out over the track and nothing else. There are just a few distant trees visible if you're looking out for something besides the horses. This simple setup is incredibly attractive to fans and allows the race to be watchable from every angle on the concourse.
If you're looking for a niche but traditional racing experience, Ballinrobe Racecourse will most certainly provide that. It has everything one would expect from a racecourse, but with that essence of 'homeliness'.
The course is welcoming, secluded and puts all eyes on the great Irish horses that are running.
Ballinrobe Races Live Stream Calendar Highlights
The most attractive race for owners to send their horse to, for jumps, is the Irish EBF Fillies Handicap. The one mile and five furlong race often takes place in June. It can be run in by fillies that are three years old and older (and have a handicap mark between 60-90).
The race can attract some upcoming prospects who are looking for a decent and fair run. However, owners don't really send them to the race with the intention of securing a large sum of money given the twenty-five thousand euro prize pot.
These are the pick of the bunch to take note for watching on the Ballinrobe races live stream:
| Month | Race Name | Distance |
| --- | --- | --- |
| June | Irish EBF Fillies Handicap | 1m 5f 26y |
| July | P&D Lydon Irish European Breeders Fund Mares Handicap Hurdle | 2 Mile 6 Furlongs |
| July | Eamon Sheridan Groundworks Chase | 2 Mile 3 1/2 Furlongs |
| July | Irish Stallion Farms European Breeders Fund Mares Maiden Hurdle | 2 Mile 2 Furlongs |
| August | Hollymount Nursing Home Handicap Hurdle | 2 Mile 1 Furlong |
| August | Adare Manor Opportunity Maiden Hurdle | 2 Mile 1 Furlong |
| August | KPMG Handicap Hurdle | 2 Mile 1 Furlong |
Legal Live Streams
The live streams that we feature here on StreamingSport.net are 100% legitimate and legal. There is not much point in taking a risk using one of the low-quality streaming services that abound.
It's much more important to do things the right way and keep your computer or mobile device free of viruses.
How it Works
We connect you with the leading sites that telecast live streams of horse racing events. They have already paid for the legal rights to broadcast them, so you might as well take advantage of it.
Further Live Stream Options
More legal live streams for horse racing can be found at the following sites. Similar conditions apply (i.e. having a deposit active or a bet in the past 24 hours):

– William Hill
– Betfred
– Coral

Last updated October, 2023
Here's the ideal way to prepare yourself for the Ballinrobe horse racing live stream action.
Watch Listen Dear continue in her rich vein of form to secure her fourth successive victory under jockey Ruby Walsh. The Willie Mullins trained Bay Mare has since won several Group 1s.
Ballinrobe Races Live Stream FAQs
🎥 Do I need to pay a subscription for the Live Stream?
No, there is no subscription charge. You'll need to register on the site first, which only takes a minute.
🏇 Are there other races available, too?
Yes, there are many other races that you can watch – just take a look at the schedule.
⌚ When will the race coverage start?
The race coverage begins approximately two to three minutes before the race is scheduled.