Dundalk Stadium is a racing venue located in the country town of the same name. It hosts both horse racing and greyhound racing. Fans of horse racing can watch a Dundalk racing live stream free of any subscription charges.
See the details below which show you how to gain access to the live streaming service.
How to Watch This LIVE Racing
#ad
1)
Sign up
to
bet365 here
if you are not already a member
2) Follow the 'Live Streaming' link and open the Schedule where you will see 'All Sports' > 'Horse Racing'
EVERY race in the UK and Ireland is streamed live
at bet365. They show all races shown on At The Races
and
Racing TV.
For additional/alternative viewing options, read on below under Legal Live Streams.
You can also watch replays of all UK and Irish races covered by Racing TV and At The Races for free on their Horse Racing Archive at bet365.
Only available to eligible customers. To watch a UK race streamed on At The Races you must have a funded account or have placed a bet in the last 24 hours. To watch any other racing that is not provided by At The Races from a UK track, you must place a qualifying bet of at least £0.50 win or £0.25 Each-Way (or currency equivalent) on your selection(s).Terms & conditions and geographical restrictions apply. Registration required. #ad 18+ gambleaware.co.uk
Dundalk Upcoming Live Streamed Races
| Date | Time | Race | Class | Distance |
| --- | --- | --- | --- | --- |
| 06 OCT 2023 | 17:30 | Friday Night Lights At Dundalk Handicap (47-65) | - | 5f |
| 06 OCT 2023 | 18:00 | Gateway Hotel Dundalk Race & Stay Race | - | 5f |
| 06 OCT 2023 | 18:30 | Irish Stallion Farms EBF Legacy Stakes (Listed) | 1 | 5f |
| 06 OCT 2023 | 19:00 | Irishinjuredjockeys.com Nursery Handicap | - | 7f |
| 06 OCT 2023 | 19:30 | Irish Stallion Farms EBF Star Appeal Stakes (Listed) | 1 | 7f |
| 06 OCT 2023 | 20:00 | Michael Cooney Memorial Maiden | - | 7f |
| 06 OCT 2023 | 20:30 | View Restaurant At Dundalk Stadium Handicap (70-100) | - | 7f |
Next, we look at the racecourse itself and some of the more important races that take place there.
Dundalk Stadium Course Overview
Dundalk Stadium is a roaring success amongst locals. The track is a polytrack, meaning that it is all-weather and incredibly rarely called off due to weather issues.
It is regarded as one of the best polytrack circuits in the whole of Europe. Dundalk only relatively recently reopened in August 2007 after the closure of the course's turf track six years prior.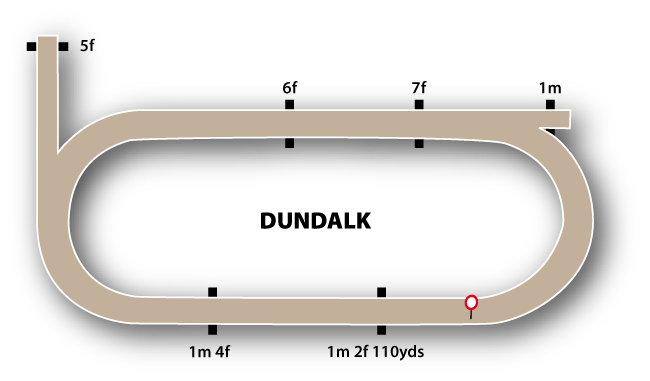 Track Overhaul
The turf track was used mainly for National Hunt races. Management believed the best foot forward would be scrapping the course entirely and laying a completely new, top quality polytrack instead.
The circuit is oval shaped and has two additional starting chutes; One for 1m races and another of five furlongs. The left-handed course is 10 furlongs long.
It no longer has any 'unlucky losers' after the addition of the cutaway rail to stop some from getting caught in behind with nowhere to go. 
The home straight is two and a half furlongs long and comes off a wide open bend. This in turn allows times at the track to be quite fast as momentum continues to build throughout.
Polytrack is quite a firm and fair surface and many horses take to it well; Especially those who enjoy soft ground or a bit of give when they're galloping. 
The biggest draw advantage for all of the different distance races is comfortably a low draw for the races of a mile and a quarter.
The stalls sit very close to the bend. Therefore if you're drawn out wide, 'in the car park' is the expression used by racing fans, then horses are trying to take the bend as well as come over to the rail side and consequently travelling over more ground than those in stalls one, two, three, etc.
Viewing at Dundalk Racecourse
Dundalk's grandstand is a large swooping stand that has a perfect view of the finishing line. It's very well lit with floodlights. And these are very much necessary, given that Dundalk is used in the winter months when the evenings are closing in. 
The horse racing track runs parallel to the greyhound racing track, meaning that spectators can check out both courses. This is good for spectators who can explore the prospect of going to watch greyhound racing, and from a business perspective as it encourages returning customers. 
Besides the tracks, the hilltops and acres of forest are visible from the stand.
Dundalk Racing Calendar Highlights
With a total of 38 meetings through the calendar year, it comes as no surprise to hear that Dundalk does entertain some top quality racing. It can provide the early stepping stones for some very exciting prospects; Multiple Group 1 winners have won at the track on numerous occasions.
Also, due to the high volume of meetings at the track, it also means that Dundalk stages some Group and listed races.
Diamond Stakes
Of most note of these horse races is the Group 3 Diamond Stakes.
It is a one mile and two furlong long race that often takes place in October, or late September. The Diamond Stakes is open for all horses that are three years old and older and of either gender. Fillies and mares receiving a three pound weight allowance. 
This race also tries to level things more by penalising previous Group winners from that year. If the horse has won a Group 1 they carry an extra five pounds, and if they've won a Group 2 they carry an additional three pounds. 
If you look at a list of previous Diamond Stakes winners, it is full to the brim with top horses. The most recognisable of these is four-time Group One-winner Mastercraftsman from the Aidan O'Brien yard, under the ride of Johnny Murtagh.
| Month | Race Name | Distance |
| --- | --- | --- |
| March | Patton Stakes | 1 Mile |
| October | Diamond Stakes | 1 Mile 2 1/2 Furlongs |
| October | Mercury Stakes | 5 furlongs |
| September | Irish Stallion Farms European Breeders Fund Median Auction Maiden | 6 Furlongs |
| September | Servisource Education Support | 1 Mile 2 1/2 Furlongs |
| November | Winter Series At Dundalk 2020 Handicap | 1 Mile 2 1/2 Furlongs |
Overall, whether you're watching the Dundalk racing live stream for, dogs or horses, it should be excellent viewing. But, of course, as you are reading this, you'd probably rather go and see the horse racing.
The venue itself has newly renovated facilities and everything is modern and new. If you do decide to go there in person, you will find that spectators have access to everything they could possibly need for an evening out with friends/family.
Legal Live Streams
The live streams that we feature here on StreamingSport.net are 100% legitimate and legal. There is not much point in taking a risk using one of the low-quality streaming services that abound.
It's much more important to do things the right way and keep your computer or mobile device free of viruses.
How it Works
We connect you with the leading sites that telecast live streams of horse racing events. They have already paid for the legal rights to broadcast them, so you might as well take advantage of it.
Further Live Stream Options
More legal live streams for horse racing can be found at the following sites. Similar conditions apply (i.e. having a deposit active or a bet in the past 24 hours):

– William Hill
– Betfred
– Coral

Last updated October, 2023
Here's the ideal way to get ready for the Dundalk horse racing live stream.
Watch this highlights package from Jan 2020 with replays of the live streaming action from Dundalk stadium.
Tough battles are the norm at Dundalk as horses love to give everything they've got on the all-weather surface.
Dundalk Racing Live Stream FAQs
🎥 Do I need to pay a subscription for the Live Stream?
No, there is no subscription charge. You'll need to register on the site first, which only takes a minute.
🏇 Are there other races available, too?
Yes, there are many other races that you can watch – just take a look at the schedule.
⌚ When will the race coverage start?
The race coverage begins approximately two to three minutes before the race is scheduled.