Clonmel Racecourse is both a Flat and National Hunt racecourse situated in Clonmel in Ireland. You can watch a Clonmel races live stream free of any subscription charges using this method.
See the details below which show you how to get access to the live streaming action. Following that, we'll outline what to watch and review the racecourse.
How to Watch This LIVE Racing
#ad
1)
Sign up
to
bet365 here
if you are not already a member
2) Follow the 'Live Streaming' link and open the Schedule where you will see 'All Sports' > 'Horse Racing'
EVERY race in the UK and Ireland is streamed live
at bet365. They show all races shown on At The Races
and
Racing TV.
For additional/alternative viewing options, read on below under Legal Live Streams.
You can also watch replays of all UK and Irish races covered by Racing TV and At The Races for free on their Horse Racing Archive at bet365.
Only available to eligible customers. To watch a UK race streamed on At The Races you must have a funded account or have placed a bet in the last 24 hours. To watch any other racing that is not provided by At The Races from a UK track, you must place a qualifying bet of at least £0.50 win or £0.25 Each-Way (or currency equivalent) on your selection(s).Terms & conditions and geographical restrictions apply. Registration required. #ad 18+ gambleaware.co.uk
Clonmel is used throughout the entirety of the racing season. Expect to see meetings in the cold, dark winters and the boiling hot summers – Clonmel caters for it all.
Clonmel Upcoming Live Streamed Races
Clonmel Course Overview
Also known as Powerstone Park, Clonmel is the only one in Tipperary to be used all year round.
Flat Course
The flat course is a short, right-handed track. It's also oval-shaped, as you will notice when watching the Clonmel races live stream. The course is just ten furlongs in length, meaning that for the longer flat races the horses must complete over a full lap of the course.
The bends on the course are open and wide with no real stall bias. The only real section that, purposefully, causes competitors difficulty is the section of downhill course which leads on to the uphill straight.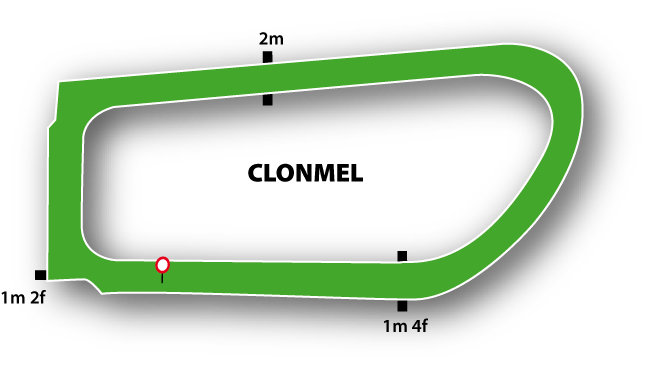 The quick change in steepness can catch a lot of horses and jockeys off-guard. Those overcommitting on the downhill section often quickly dropping off on the run to the line. Therefore, the track often favours those that can travel on the bit well.
It's also well-suited to those that burn through energy quickly often have nothing left for the final furlong. Those horses can cause traffic behind them as their speed declines.
Jumps Course
The Clonmel Racecourse National Hunt circuit is most definitely more well-recognised in comparison to its flat track.
Just like the flat course, the National Hunt is oval-shaped and relatively short in comparison to other courses. The track is very 'up and down'. That is, there is a lack of flat patches so those who are less tough and gritty can struggle.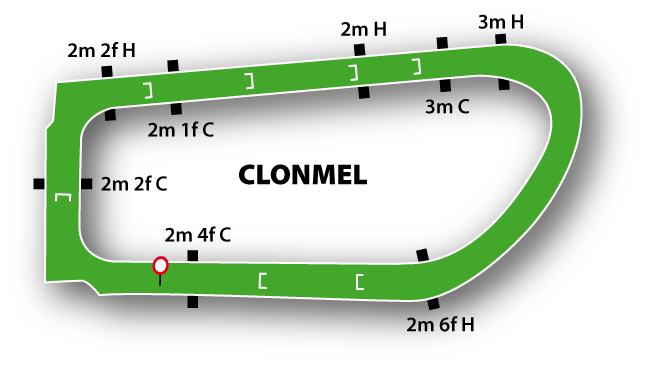 There are dips in the course. In winter, adverse weather can lead the track to become quite heavy and boggy as the water fails to drain.
The hills and downward slopes also make it incredibly difficult for horses caught in behind to make up any ground. This is especially so if a front runner has got a break on the pack.
The sharpness of the drop on the run to the home straight is a major talking point amongst jockeys, also.
The riders have to decide how they will play their hand. That is, whether to hope they have enough left in the tank to roll along or to try and push on and hope they can squeeze the very most out of their horse to stay ahead.
Viewing at Clonmel Racecourse
The Clonmel racecourse itself is adored by Irish racing fans. Being accessible by train, coach and bus, the track is often well-attended and the stands packed out.
However, with so many visitors attending each meeting, some would assume that good views of the track are hard to come by.
However, it is very much the opposite case – a sweeping view of much of the course is visible from the entire concourse. The wall of trees and shrubs surrounding the course brings the focus to the high-quality racing that Clonmel offers.
Clonmel Race Calendar Highlights
The most significant race in the Clonmel Racecourse calendar is certainly the Clonmel Oil Chase. The steeplechase race takes place in November and is open for horses of four years old and older.
The race is two miles and four furlongs long which, given the likely conditions for an Irish meeting in November, can be a bit of a mud bath. However, the race does attract some very likeable types. In the past, some significant faces have featured (and in some cases won) in the race.
In 2019, the race was won by Douvan for Willie Mullins and Paul Townsend. The French gelding had a good record in grade one and two races. This led to the then nine-year-old going off at 4/5 odds.
For those who don't understand race betting or are new to it, if you put €/£5 on him to win then you would get £9 back, which includes the initial €/£5 you placed.
The race itself lacked some pace from the front and Douvan took full advantage of that, coasting into the lead. He then piled the pressure on before the third-last. It was enough to give him enough breathing room to push on and secure a nine-and-a-half length victory.
| Meeting Date | Race | Distance |
| --- | --- | --- |
| February | Mercedes-Benz Novice Hurdle | 3 Miles |
| November | T. A. Morris Memorial Mares Chase | 2 Miles 4 Furlongs |
| November | Clonmel Oil Chase | 2 Miles 4 Furlongs |
| February | Mullinahone Rated Novice Chase | 2 Miles 7 Furlongs |
| February | Ballylooby Mares Handicap Chase | 2 Miles 4 Furlongs |
| October | Irish Stallion Farms European Breeders Fund Captain Christy Rated Novice Chase | 3 Miles |
Legal Live Streams
The live streams that we feature here on StreamingSport.net are 100% legitimate and legal. There is not much point in taking a risk using one of the low-quality streaming services that abound.
It's much more important to do things the right way and keep your computer or mobile device free of viruses.
How it Works
We connect you with the leading sites that telecast live streams of horse racing events. They have already paid for the legal rights to broadcast them, so you might as well take advantage of it.
Further Live Stream Options
More legal live streams for horse racing can be found at the following sites. Similar conditions apply (i.e. having a deposit active or a bet in the past 24 hours):

– William Hill
– Betfred
– Coral

Last updated October, 2023
Here's the ideal way to get ready for the Clonmel horse racing live stream.
Watch this video from Horse Racing Ireland from Clonmel. It shows the race highlights from 27th Feb 2020 just before sport went behind closed doors.
Clonmel Races Live Stream FAQs
🎥 Do I need to pay a subscription for the Live Stream?
No, there is no subscription charge. You'll need to register on the site first, which only takes a minute.
🏇 Are there other races available, too?
Yes, there are many other races that you can watch – just take a look at the schedule.
⌚ When will the race coverage start?
The race coverage begins approximately two to three minutes before the race is scheduled.