Limerick Racecourse is the newest horse racing venue built in Ireland after its construction in late 2001. Horse racing fans can watch a Limerick racing live stream free from any subscription charges.
To do so, see the details below that show you how to get access to the live streaming action.
How to Watch This LIVE Racing
#ad
1)
Sign up
to
bet365 here
if you are not already a member
2) Follow the 'Live Streaming' link and open the Schedule where you will see 'All Sports' > 'Horse Racing'
EVERY race in the UK and Ireland is streamed live
at bet365. They show all races shown on At The Races
and
Racing TV.
You can also watch replays of all UK and Irish races covered by Racing TV and At The Races for free on their Horse Racing Archive at bet365.
Only available to eligible customers. To watch a UK race streamed on At The Races you must have a funded account or have placed a bet in the last 24 hours.
To watch any other racing that is not provided by At The Races from a UK track, you must place a qualifying bet of at least £0.50 win or £0.25 Each-Way (or currency equivalent) on your selection(s).Terms & conditions and geographical restrictions apply. 18+ gambleaware.co.uk
Limerick Upcoming Live Streamed Races
| Date | Time | Race | Class | Distance |
| --- | --- | --- | --- | --- |
| 26 MAR 2023 | 13:40 | Irish Stallion Farms Ebf Maiden Hurdle | - | 2m 3f |
| 26 MAR 2023 | 14:15 | Tote Mares Hurdle | - | 2m 50y |
| 26 MAR 2023 | 14:50 | Adare Manor Opportunity Handicap Hurdle | - | 2m 50y |
| 26 MAR 2023 | 15:25 | Way To Paris At Coolagown Stud Hugh McMahon Memorial Novice Chase (Grade 3) | 1 | 3m 120y |
| 26 MAR 2023 | 16:00 | Follow Limerick Racecourse On Social Media Handicap Chase | - | 2m 3f 120y |
| 26 MAR 2023 | 16:35 | Limerick Racecourse Novice Handicap Chase | - | 2m 1f 110y |
| 26 MAR 2023 | 17:10 | Kevin Mcmanus Bookmaker Champion (pro/am) Flat Race (listed) | 1 | 2m 50y |
The county has always hosted racing in the area, however they have always struggled to pin down a stable location. Records show that this is the seventh track to ever have been built in Limerick.
The impressive new build, as far as racecourses are concerned, looks like it is now here to stay. The impressive facilities that it has to offer make it very much a course to visit, too.
Read on for information about what to watch and we also take a look at the Limerick course.
Limerick Races Course Overview
The track hosts both flat racing and National Hunt, yielding a total of 18 meetings over the entire year. Being that it is just 8km south of Limerick City, the track is extremely accessible.
In fact, Limerick Station is just 15 minutes away from the track and Shannon Airport is 15km away. Naturally, this means that the meetings are usually incredibly well-attended.
Flat Course
The flat track is a course that is incredibly ground-dependent. It favours different types of horses depending on how much rain has got into the surface.
This, frustratingly, can lead to several non-runners on the mornings of meetings if the going changes overnight. One mile and three furlongs long overall, the circuit is right-handed and relatively oval-shaped.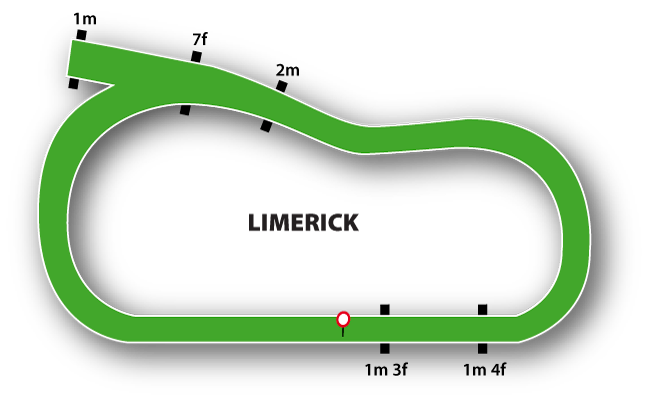 Towards the end of the back straight the flat becomes a steep climb up rising ground before a long sweeping bend. Then there is a downhill run on to the final three furlong home straight.
Front runners are often fond of the track. If they get everything their own way, they can set a fast pace and flee from the pack coming on to the bend.
When the ground is soft, there is no real benefit to front running, as the rest of the bunch can continue at a steady pace and make up the ground. On the fast ground it is almost the opposite.
Jumps Course
Similarly to the flat, the National Hunt course is a right-handed oval course and is also one mile and three furlongs long.
The most testing part of the track is certainly towards the back straight. Horses face a sharp turn coming on to the back and then a long, stiff section of rising ground.
They then have a downhill slope to contend with before a home straight on a slight gradient. This can often catch the more inexperienced jockeys out if they kick on too early as their mounts simply have nothing left in the tank.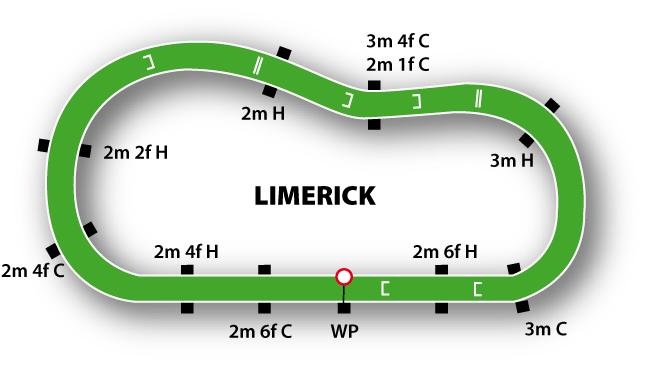 The track is a real galloping circuit and therefore those that travel well and can switch off and settle quickly often flourish. Those that can recoup energy quickly are often successful, too.
This is because the period at the top of the back straight's rising ground is the only true place to regather enough energy before pushing on towards the finishing line.
Viewing at Limerick Racecourse
Limerick Racecourse is a fantastic experience for all ages, the atmosphere created amongst the wealth of fans in the huge grandstand is indescribable.
The views of the course are superb, and the stand is so large that no matter where you are standing/sitting, you can see all the action.
Looking out from the stand you can see the concourse, the track and then a touch of nature in the form of a lake and some short and stumpy trees. Of course, fans don't travel to see that – they travel to see the top quality racing that Limerick has to offer.
Limerick Racing Live Stream Calendar Highlights
We've identified the top races throughout the year that you can watch below.
| Month | Race Name | Distance |
| --- | --- | --- |
| March | Charleville Cheese Irish EBF Mares Novice Chase (Dawn Run Mares Novice chase) | 2 Mile 6 Furlongs |
| March | Limerick E.B.F Mares Novice Hurdle | 2 Miles |
| April | Hugh McMahon Novice Chase | 3 Miles |
| October | Fergus O'Toole Memorial Novice Hurdle | 2 Miles 5 Furlongs |
| October | Martin Molony Stakes | 1 Mile 4 1/2 Furlongs |
| December | Greenmount Park Novices Chase | 2 Miles 3 1/2 Furlongs |
| December | Dorans Pride Novices Hurdle | 3 Miles |
The highlight of the entire Limerick racing live stream calendar has to be the four-day Christmas festival. Despite the name, it actually starts on Boxing Day and runs up until the 29th of December.
The highlight of those four days is the Grade 1 Greenmount Park Novice Chase. The race is two miles and three-and-a-half furlongs long and is open for four year olds and older.
The race is often on heavy ground due to the typical Irish weather; however, it still draws huge crowds. In December 2019, over 41,000 people attended the festival.
The previous winners list for the race is filled with some iconic names, with the likes of modern-day fan favourite Faugheen winning in 2019. Others include the French stayer Sir Des Champs on just his fourth ever start (2011) and Michael Hourigan's impressive Irishman Hi Cloy in 2003.
Legal Live Stream
The live streams that we feature here on StreamingSport.net are 100% legitimate and legal. There is not much point in taking a risk using one of the low-quality streaming services that abound.
It's much more important to do things the right way and keep your computer or mobile device free of viruses.
How it Works
We connect you with the leading sites who telecast live streams of horse racing events. They have already paid for the legal rights to broadcast them, so you might as well take advantage of it.
Here's the ideal way to get all gee'd up for the Limerick horse racing live stream. Watch 'Faugheen the Machine' obliterate the field in the 2019 Greenmount Park Novice Chase.
This race really does embody the old saying that 'form is temporary and class is permanent'.
Limerick Racing Live Stream FAQs
🎥 Do I need to pay a subscription for the Live Stream?
No, there is no subscription charge. You'll need to register on the site first, which only takes a minute.
🏇 Are there other races available, too?
Yes, there are many other races that you can watch – just take a look at the schedule.
⌚ When will the race coverage start?
The race coverage begins approximately two to three minutes before the race is scheduled.