Navan Racecourse is one of Ireland's most popular horse racing tracks. Racing fans can watch a Navan races live stream free of any subscription charges.
Check the details below that show you how to get access to all of the Navan live streaming action.
How to Watch This LIVE Racing
#ad
1)
Sign up
to
bet365 here
if you are not already a member
2) Follow the 'Live Streaming' link and open the Schedule where you will see 'All Sports' > 'Horse Racing'
EVERY race in the UK and Ireland is streamed live
at bet365. They show all races shown on At The Races
and
Racing TV.
For additional/alternative viewing options, read on below under Legal Live Streams.
You can also watch replays of all UK and Irish races covered by Racing TV and At The Races for free on their Horse Racing Archive at bet365.
Only available to eligible customers. To watch a UK race streamed on At The Races you must have a funded account or have placed a bet in the last 24 hours. To watch any other racing that is not provided by At The Races from a UK track, you must place a qualifying bet of at least £0.50 win or £0.25 Each-Way (or currency equivalent) on your selection(s).Terms & conditions and geographical restrictions apply. Registration required. #ad 18+ gambleaware.co.uk
Navan Upcoming Live Streamed Races
Its proximity to Navan & Dublin influences the large number that attend the course. So too does its top quality the racing.
Navan Course Overview
The course hosts both flat racing and National Hunt racing, with the latter being what Navan is renowned for. Navan Racecourse hosts 17 meetings every year.
Flat Course
The flat course is perceived by many as the fairest course in Ireland. The circuit is a mile and a half long and is left-handed; The oval shaped course also has a chute to allow for five and six furlong races to be run purely on a straight. This is rather than having a significant period of the race run on the large bend coming into the home straight.
Despite predominantly being a sprinters' track, the course is also a true test of stamina. It has a stiff three-furlong long home straight which can often find out those who have little left in the tank.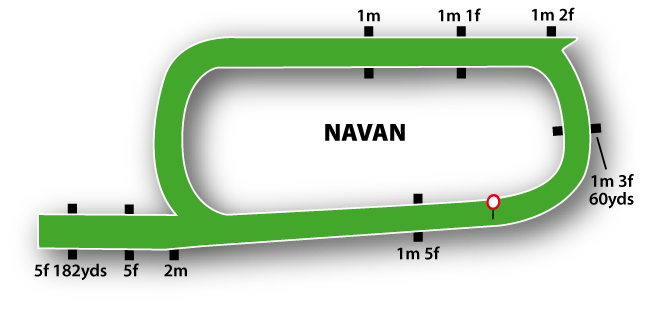 Therefore it's important for jockeys to set their own pace and truly know what their mount is capable of before their ride. The course has no draw biases and only favours horses that can travel well and have plenty of energy.
The most famous race on the flat is the Vintage Crop Stakes. The Group 3 race is a mile and six furlongs long and seen as one of the Ascot Gold Cup trials.
Entrants must be four years old and older and can be of any gender; Although fillies and mares do receive a three pound weight allowance.
The race is named after the famous Vintage Crop, known for becoming the first horse from Europe to ever win the Melbourne Cup. That's quite a feat, and he also won the Irish St Leger twice in 1993 and 1994.
The Jumps Course
The National Hunt circuit is a fair, galloping, left-handed track. The rectangular course is a mile and a half long and has a stiff finish on rising ground; It means that jockeys must be prepared coming into the home straight for a testing finish and not send for home too early.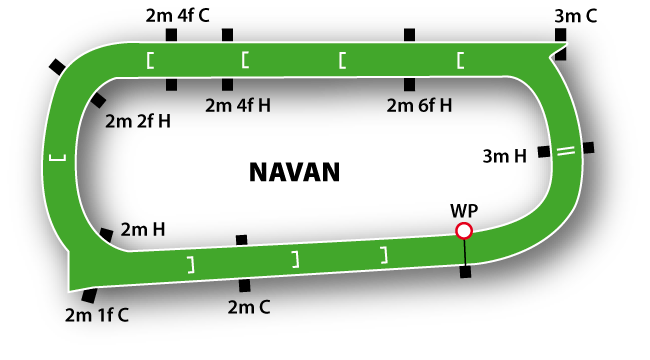 The nine fences on the chase circuit ride well and aren't too tricky to get over, with the second to last being the most difficult. The ground on the National Hunt course is crucial because it is quite absorbing ground. This means that when it rains the ground becomes soft/heavy incredibly quickly.
This type of ground – matched with a stiff, uphill finish – makes for a very testing final few furlongs. Those who are struggling on the home bend are often pulled up.
Viewing at Navan Racecourse
Aesthetically, Navan Racecourse is quite traditional; The course has avoided the hype of renovating the course to give a modern-day feel. Instead it has opted to retain everything that makes the venue so loved.
The grandstand itself has masses of space for the thousands of spectators that come to watch the racing. There is a second floor towards the back of the grandstand for those who want to sit back and avoid the hustle and bustle of race side punting and boozing.
The views at Navan are beautifully picturesque; Especially on a crisp winter morning with the frostbitten ground and early rising sun. The course is surrounded by old town buildings and farmland; This gives a sense of 'meant to be' for the racecourse due to how well it blends into its surroundings.
A backdrop of trees makes a terrific setting for the racing, which is very often of a high standard.
Those who are keen to watch Graded racing at a true local track, then Navan is certainly the course that should be considered most of all; Especially for the National Hunt racing.
Navan Race Calendar Highlights
There are plenty of Grade 2 and Grade 3 races on the National Hunt side of Navan, one of which being the Navan Novice Hurdle (Grade 2). The race is two miles and four furlongs long and often ran in December. That means that it is a true boggy test if the Irish weather is as expected.
The Navan Novice Hurdle was a Grade 1 contest from 2004. However after the 2014 running – where No More Heroes won for Gordon Elliott – the race was downgraded to Grade 2.
To show what to watch on the live stream direct from Navan, here are some of the more notable races:
| Month | Live Streamed Race | Distance |
| --- | --- | --- |
| Feb | Boyne Hurdle | 2 Miles 5 Furlongs |
| Feb | Ten Up Novice Chase | 3 Miles |
| Feb | Flyingbolt Novice Chase | 2 Miles 1 Furlong |
| March | Webster Cup Chase | 2 Miles 4 Furlongs |
| April | Ballysax Stakes | 1 Mile 2 Furlongs |
| April | Committed Stakes | 5f 164y |
| April | Salsabil Stakes | 1m 2f |
| May | Vintage Crop Stakes | 1 Mile 6 Furlongs |
| May | Yeats Stakes | 1m 5f |
| Oct | Legacy Stakes | 5f 182y |
| Nov | Lismullen Hurdle | 2 Mile 4 Furlongs |
| Nov | Fortria Chase | 2 Miles |
| Nov | For Auction Novice Hurdle | 2 Miles |
| Nov | Monksfield Novice Hurdle | 2 Miles 4 Furlongs |
| Dec | Tara Hurdle | 2 Miles 4 Furlongs |
| Dec | Navan Novice Hurdle | 2 Miles 4 Furlongs |
| Dec | Klairon Davis Novice Chase | 2m 1f |
| Dec | Future Champ INH Flat Race | 2m |
Legal Live Streams
The live streams that we feature here on StreamingSport.net are 100% legitimate and legal. There is not much point in taking a risk using one of the low-quality streaming services that abound.
It's much more important to do things the right way and keep your computer or mobile device free of viruses.
How it Works
We connect you with the leading sites that telecast live streams of horse racing events. They have already paid for the legal rights to broadcast them, so you might as well take advantage of it.
Further Live Stream Options
More legal live streams for horse racing can be found at the following sites. Similar conditions apply (i.e. having a deposit active or a bet in the past 24 hours):

– William Hill
– Betfred
– Coral

Last updated December, 2023
Here's the perfect way to set yourself up for watching the Navan races live stream on your device.
Watch the full footage of Latest Exhibition winning the Navan Novice Hurdle 2019 when the win was quite unexpected.
The second-placed horse, Andy Dufresne, was being backed into ⅓ after going unbeaten in his opening three contests.
Navan Races Live Stream FAQs
🎥 Do I need to pay a subscription for the Live Stream?
No, there is no subscription charge. You'll need to register on the site first, which only takes a minute.
🏇 Are there other races available, too?
Yes, there are many other races that you can watch – just take a look at the schedule.
⌚ When will the race coverage start?
The race coverage begins approximately two to three minutes before the race is scheduled.