Wexford Racecourse is a National Hunt horse racing venue located in Wexford, in the South East of Ireland. Race fans can watch a Wexford racing live stream free of any subscription charges.
See the details below which show you how to get access to the live streaming action. Following that, we'll outline what to watch and review the racecourse.
How to Watch This LIVE Racing
#ad
1)
Sign up
to
bet365 here
if you are not already a member
2) Follow the 'Live Streaming' link and open the Schedule where you will see 'All Sports' > 'Horse Racing'
EVERY race in the UK and Ireland is streamed live
at bet365. They show all races shown on At The Races
and
Racing TV.
For additional/alternative viewing options, read on below under Legal Live Streams.
You can also watch replays of all UK and Irish races covered by Racing TV and At The Races for free on their Horse Racing Archive at bet365.
Only available to eligible customers. To watch a UK race streamed on At The Races you must have a funded account or have placed a bet in the last 24 hours. To watch any other racing that is not provided by At The Races from a UK track, you must place a qualifying bet of at least £0.50 win or £0.25 Each-Way (or currency equivalent) on your selection(s).Terms & conditions and geographical restrictions apply. Registration required. #ad 18+ gambleaware.co.uk
Wexford Upcoming Live Streamed Races
According to records, it was in the 1870s that the first horse racing took place in the area. This might explain why racing is engrained in the routes of the town.
Wexford Course Overview
The course used to have a flat course as well. However, in the summer of 2016 they decided to discontinue that course and focus purely on the National Hunt side of racing. That then followed a series of major changes.
The course used to be a mildly unpopular course amongst owners; The varying gradients throughout the circuit being incredibly testing and the course being so tight and sharp.
However, in a major change, the track was switched so that it became a left-handed track. Work then began on widening the course and making the undulations not so severe, which has worked in some areas.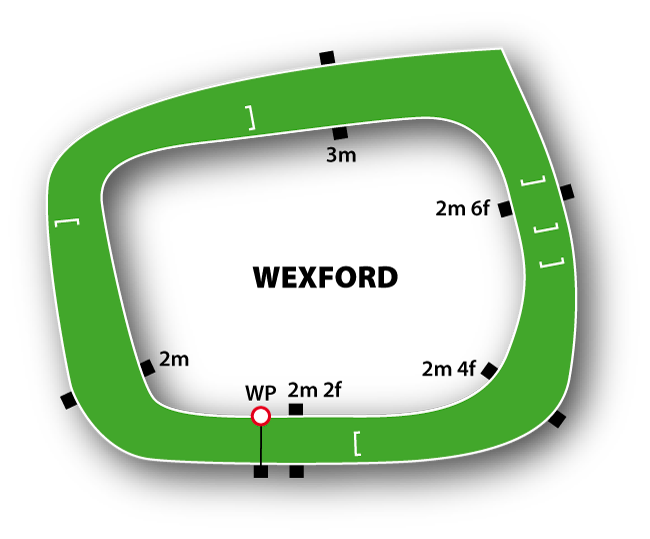 As a result of the changes, the course frustratingly had to sacrifice having the finish line directly in front of the grandstand; Instead it is now approximately just over a furlong past it.
These changes have resulted in the track has becoming very popular with owners. Now they are more willing to send their better horses to the venue, thus making for some very competitive races.
The new and reformed track is a right-handed, rectangle-shaped course that is quite sharp. The track is nine furlongs in extent and has just six fences on the circuit course.
The track certainly favours fast travelling, handy horses due to the emphasis being on speed rather than the jumps themselves. It's therefore crucial that a pacy front-runner is kept under wraps and not let free run of the race at the front as they will be able to run the field into the ground.
There are several undulations on the way, but the most significant part of the course on uneven ground is the home straight. This is two furlongs long and steadily rises into quite an uphill climb.
Typical Conditions You'll See
The ground at Wexford Racecourse is very important in decision-making for jockeys as it can determine their route and run style.
Heavy ground will mean a slower tempo to cater for a long and gruelling uphill home straight; Whereas good and fast ground can mean that jockeys can tap into their awareness of their mounts strengths to run as they think will best suit.
Due to the humps and rising ground patches, ground can differ along the way. This is because water trickles down the rising ground to make for some boggy patches.
Viewing at Wexford Racecourse
Wexford Racecourse is very much in the heart of the town and is a focal point for the surrounding area. With views of church buildings and houses at every angle of the course, there is a true community spirit to the venue as it brings together so many people for the same shared passion.
There are two stands at Wexford, and neither are particularly big. However, this is now insignificant as many opt to stand at the finishing line to be able to see first-hand who is first past the post.
One stand is sheltered, and another is left as just a stand; This means that for lovely Irish summer evenings, there is plenty of space to stand and spectate from.
Watch Up-and-coming Runners
Wexford Racecourse goes quite under the radar amongst Irish racing fans. That's probably because it fails to host any incredibly high quality action.
Instead, it is favoured by the smaller yards and some of the big owners who are looking for a tight track to test their cavalry's versatility.
However, this shouldn't deter fans from visiting the track. Far from it.
If families in the surrounding towns and cities are looking for a day out from their usual areas to visit somewhere that caters for all ages, then Wexford Races is the place to go.
You will see a smattering of bookmakers, cafes and restaurants for those who want a gamble and a bite to eat. There is also a very accessible parade ring for children to admire the animals as they strut around.
If you're looking for a community-driven but racing-orientated course, Wexford Racecourse is what you are looking for. Of course, with the Wexford racing live stream you don't have to be concerned with any of this. Just switch on your laptop, tablet, phone or PC and watch every race unfold.
Wexford Racing Calendar Highlights
We've picked out some of the better races to watch live and direct on the Wexford racing calendar below:
| Month | Live Streamed Race | Distance |
| --- | --- | --- |
| Mar | Micheal O'murchadha Memorial Handicap Hurdle | 2 Miles |
| Mar | Arctic Tack Stud Veterans Handicao Chase | 2 Miles 4 Furlongs |
| Aug | Money Back on the BoyleSports app Chase | 2 Miles |
| Aug | Slaney Beginners Chase | 2 Miles 4 Furlongs |
| Aug | Adare Manor Opportunity Handicap Chase | 2 Miles 4 Furlongs |
| Oct | M.W. Hickey Memorial Chase | 2 Miles 7 Furlongs |
| Oct | Casey Precast Handicap Chase | 2 Miles 4 Furlongs |
Legal Live Streams
The live streams that we feature here on StreamingSport.net are 100% legitimate and legal. There is not much point in taking a risk using one of the low-quality streaming services that abound.
It's much more important to do things the right way and keep your computer or mobile device free of viruses.
How it Works
We connect you with the leading sites that telecast live streams of horse racing events. They have already paid for the legal rights to broadcast them, so you might as well take advantage of it.
Further Live Stream Options
More legal live streams for horse racing can be found at the following sites. Similar conditions apply (i.e. having a deposit active or a bet in the past 24 hours):

– William Hill
– Betfred
– Coral

Last updated October, 2023
Get a taste for the Wexford horse racing live stream here.
Watch the highlights from an incredibly competitive March meeting at Wexford. The ground in this video is soft; The runners had to give their all if they wanted to get their head in front.
Wexford Horse Racing Live Stream FAQs
🎥 Do I need to pay a subscription for the Live Stream?
No, there is no subscription charge. You'll need to register on the site first, which only takes a minute.
🏇 Are there other races available, too?
Yes, there are many other races that you can watch – just take a look at the schedule.
⌚ When will the race coverage start?
The race coverage begins approximately two to three minutes before the race is scheduled.