Bellewstown Racecourse is a beautiful racecourse that stages flat racing and National Hunt racing in its unique location, the Hill of Crockafotha in County Meath. You can watch a Bellewstown live stream free of any subscription charges.
Read on for the details of how to gain access to the live streaming action.
How to Watch This LIVE Racing
#ad
1)
Sign up
to
bet365 here
if you are not already a member
2) Follow the 'Live Streaming' link and open the Schedule where you will see 'All Sports' > 'Horse Racing'
EVERY race in the UK and Ireland is streamed live
at bet365. They show all races shown on At The Races
and
Racing TV.
For additional/alternative viewing options, read on below under Legal Live Streams.
You can also watch replays of all UK and Irish races covered by Racing TV and At The Races for free on their Horse Racing Archive at bet365.
Only available to eligible customers. To watch a UK race streamed on At The Races you must have a funded account or have placed a bet in the last 24 hours. To watch any other racing that is not provided by At The Races from a UK track, you must place a qualifying bet of at least £0.50 win or £0.25 Each-Way (or currency equivalent) on your selection(s).Terms & conditions and geographical restrictions apply. Registration required. #ad 18+ gambleaware.co.uk
Bellewstown Upcoming Live Streamed Races
Being situated where it is, the track enjoys stunning views of the Mountains of Mourne and the Irish sea. This contributes to making it an unbelievable backdrop to some quality racing.
Bellewstown Racecourse hosts two racing festivals every year, which are always a roaring success. One is in the first week of July and then the second is towards the back end of August.
Bellewstown Course Overview
Flat Course
The flat course is a left-handed track and quite sharp in nature. The track is oval shaped and just nine furlongs long, with two long straights and two tight bends.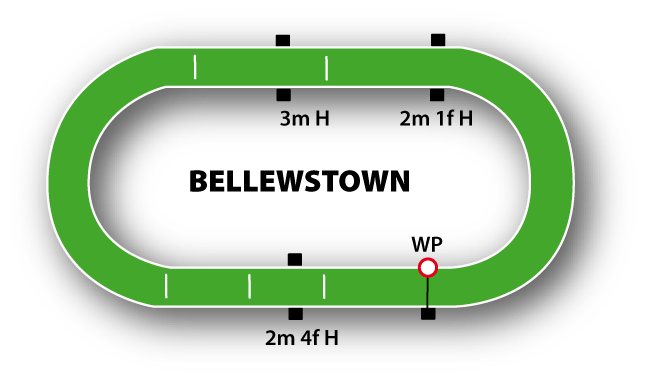 In whole, the circuit is fairly flat besides the home straight, which is slightly uphill. Jockeys often prefer a lower draw because of how tight the bends are.
This is especially the case for horses that prefer to sit on the pace or front run because often some horses can get caught in behind on the bend and give away precious lengths.
Jumps Course
The National Hunt course is incredibly similar to the flat course in nearly every essence; It is undulating, nine furlongs long, left handed and has an uphill finish.
Unusually for a National Hunt track, the venue doesn't host any races over fences, instead only hurdles. In a full circuit, there are just five hurdles which often means that the better travellers often prevail, especially those who manage to get the inside around the sharp bends.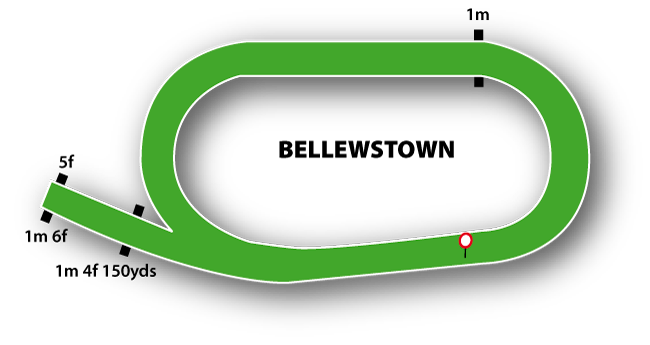 Due to how high up the course is, the track does get quite windy and there is often some tailwind. However, it does have a positive effect on the ground due to how the rain can drain efficiently and quickly.
It means that meetings coming into the summer period will have firm to good ground.
A Legendary Bellewstown Betting Win
In the betting world, Bellewstown is known for being the home of the Yellow Sam betting coup. This is one the most famous betting coups in the history of UK and Irish racing. If you've not heard about it, you must read on.
It's 1975. At the centre of the story was Barney Curley, a former trainer and professional gambler. Curley purchased a horse called Yellow Sam and instructed his trainer to train him for the National Hunt Race at Bellewstown.
Then, with having Yellow Sam's handicap mark cut to as low as possible, he ran his horse in numerous races which would not suit the horse.
Be it because of the ground, the course, the grade of race or length of the trip – Curley did whatever he could to ensure that Yellow Sam did not look capable of winning a race at his current handicap mark. In turn, his plan started to work and the horse fell down the weights.
On the day of the race, Yellow Sam opened at 20/1 which was music to the ears of Curley. However, he did not want bookmakers and the track to know how much money was being placed for the horse. That, of course, would have resulted in dropping his price.
He had to conduct this operation so that he could get his life savings on the horse at the best possible price. Which makes it genius as to why he chose Bellewstown.
At the time, the track only had two phone lines; one for the public and one for on-concourse bookmakers to contact the betting shops. He had the bookmakers phone line cut and then made perfect use of the only available phone line.
He had his friend use up the phone line in the half an hour pre-off to talk to his fake passing auntie, buying time and sympathy. Then, Curley had all his friends and family place their bets all over the country at the odds of 20/1 without the risk that the odds will drop.
Yellow Sam romped home by 2.5 lengths to secure Barney Curley the equivalent of more than 1.7 million euros in profits in today's money. The bets were won fairly, as he did not break any laws or regulations. It was a mammoth but perfectly executed plan.
Viewing at Bellewstown Racecourse
If you were to visit Bellewstown, we cannot promise a betting extravaganza to the extent of the Yellow Sam coup. But we can promise you that the views are unbelievable, and it is well worth seeing just for that.
The shield of forestry surrounding the track means that when the horses travel round the course it is impossible to miss them. When you focus elsewhere you really have a comparison point against the dark trees to see the magnificent surroundings.
Bellewstown Racecourse holds some good quality Irish races and is a fun day-out for all; It provides a true horse racing experience. One of the most convenient ways to watch is on the Bellewstown live stream if you can't make it there.
Bellewstown Live Stream Race Calendar Highlights
Here's a list of some of the top races that you can watch on the Bellewstown live horse racing stream service:
| Month | Race | Distance |
| --- | --- | --- |
| January | Great Yorkshire Chase | 3m |
| January | Yorkshire Rose Mares' Hurdle | 2m 110y |
| January | River Don Novices' Hurdle | 3m 110y |
| January | Lightning Novices' Chase | 2m 110y |
| March | Grimthorpe Handicap Chase | 3m 2f |
| March | Brocklesby Stakes | 5f |
| March | Cammidge Trophy | 6f |
| March | Doncaster Mile Stakes | 1m |
| March | Lincoln Handicap | 1m |
| September | Flying Scotsman Stakes | 7f |
| September | Scarbrough Stakes | 5f |
| September | Sceptre Stakes | 7f |
| September | Park Hill Stakes | 1m 6f 132y |
| September | Flying Childers Stakes | 5f |
| September | Doncaster Cup | 2m 2f |
| September | May Hill Stakes | 1m |
| September | St. Leger Stakes | 1m 6f 132y |
| September | Champagne Stakes | 7f |
| September | Portland Handicap | 5f 140y |
| September | Park Stakes | 7f |
| October | Vertem Futurity Trophy | 1m |
| November | November Handicap | 1m 4f |
| December | Summit Juvenile Hurdle | 2m 110y |
| December | December Novices' Chase | 3m |
Legal Live Streams
The live streams that we feature here on StreamingSport.net are 100% legitimate and legal. There is not much point in taking a risk using one of the low-quality streaming services that abound.
It's much more important to do things the right way and keep your computer or mobile device free of viruses.
How it Works
We connect you with the leading sites that telecast live streams of horse racing events. They have already paid for the legal rights to broadcast them, so you might as well take advantage of it.
Further Live Stream Options
More legal live streams for horse racing can be found at the following sites. Similar conditions apply (i.e. having a deposit active or a bet in the past 24 hours):

– William Hill
– Betfred
– Coral

Last updated October, 2023
Watch the highlights from an exciting sunny afternoon of racing at Bellewstown in August 2019. The video is jam-packed with emphatic winners, a photo finish and a handful of unlucky losers.
Bellewstown Live Stream FAQs
🎥 Do I need to pay a subscription for the Live Stream?
No, there is no subscription charge. You'll need to register on the site first, which only takes a minute.
🏇 Are there other races available, too?
Yes, there are many other races that you can watch – just take a look at the schedule.
⌚ When will the race coverage start?
The race coverage begins approximately two to three minutes before the race is scheduled.