Thurles Racecourse is a National Hunt racing course in the County of Tipperary. Horse racing fans can watch a Thurles racing live stream free of any subscription charges.
Read on for the details of how to get access to the live streaming horse racing action direct from the Thurles course.
How to Watch This LIVE Racing
#ad
1)
Sign up
to
bet365 here
if you are not already a member
2) Follow the 'Live Streaming' link and open the Schedule where you will see 'All Sports' > 'Horse Racing'
EVERY race in the UK and Ireland is streamed live
at bet365. They show all races shown on At The Races
and
Racing TV.
For additional/alternative viewing options, read on below under Legal Live Streams.
You can also watch replays of all UK and Irish races covered by Racing TV and At The Races for free on their Horse Racing Archive at bet365.
Only available to eligible customers. To watch a UK race streamed on At The Races you must have a funded account or have placed a bet in the last 24 hours. To watch any other racing that is not provided by At The Races from a UK track, you must place a qualifying bet of at least £0.50 win or £0.25 Each-Way (or currency equivalent) on your selection(s).Terms & conditions and geographical restrictions apply. Registration required. #ad 18+ gambleaware.co.uk
The venue is one of the oldest in Ireland, with records showing that Thurles first opened its doors in 1732 for a three-day festival.
Thurles Upcoming Live Streamed Races
| Date | Time | Race | Class | Distance |
| --- | --- | --- | --- | --- |
| 05 OCT 2023 | 14:15 | Irish Stallion Farms EBF Fillies Maiden | - | 1m |
| 05 OCT 2023 | 14:50 | Irish EBF Auction Series Maiden | - | 1m |
| 05 OCT 2023 | 15:20 | Moyne Handicap (47-65) | - | 1m |
| 05 OCT 2023 | 15:50 | Welcome Back To Thurles Handicap (47-65) | - | 1m 4f 101y |
| 05 OCT 2023 | 16:20 | Killinan Handicap | - | 1m 4f 101y |
| 05 OCT 2023 | 16:50 | www.thurlesraces.ie Handicap (47-70) | - | 2m |
| 05 OCT 2023 | 17:20 | Horse & Jockey Maiden | - | 2m |
In Ireland, courses typically host both National Hunt racing and flat racing. However Thurles is one of five that purely hosts purely National Hunt racing. And the course certainly prides itself on that fact.
The majority of meetings at Thurles take place on Thursday afternoons. It's almost traditional for the course and the only true exception is the meeting before Christmas, which is always a Sunday.
Despite the National Hunt season being typically wet and windy, meetings rarely ever get called off. Even when there has been immense downpour, the ground consistently remains raceable and is incredibly resilient.
It is almost a standing joke amongst racing fans that no matter what the weather, Thurles will always be on!
Thurles Course Overview
The track itself is a mile and a quarter in length and rectangular shaped. This, therefore, means that as a result the corners are very sharp and tight in areas.
The right-handed track does have some uphill and downhill sections. The most notable area of the track has to be the incredibly sharp downhill descent coming on to the home straight.
The home straight is two furlongs long and often you will see horses get speed way down the straight. That's due to how much momentum they have built up coming downhill.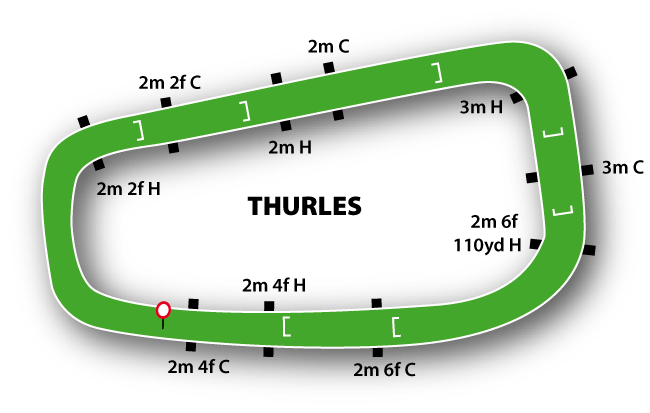 It is crucial for jockeys to not allow those in front of them to have too much time and space in the lead; This is because if they misjudge how many lengths they can afford to give away coming up the hill on the back straight.
Should this happen, then they are already playing catch up when heading towards the pole.
As stated previously, the Thurles ground is incredibly resistant and drains very well. However, when they host a larger card then the ground can get quite chopped up.
Therefore, often you may see the field split up a bit more as jockeys search for the better ground; In turn, that means moving away from the rail where competitors in the early races have been.
Viewing at Thurles Racecourse
For those not watching on the Thurles racing live stream, the racecourse is most certainly a track that is worth visiting. Spectators can expect to see top quality racing and have an enjoyable, racing-orientated day.
The grandstand has terrific views and the backdrop of the Irish countryside; There's not much more a genuine racing fan could ask for than watching some terrific jumps action whilst also appreciating the hilltops and forestry that Ireland has to offer.
Being just a mile away from the centre of Thurles town and a mile away from the course as well, there are plenty of ways to get to the venue. Naturally, the Thurles horse racing live stream has you covered otherwise.
Thurles Race Calendar Highlights
The most significant race in the Thurles racing calendar is the Kinloch Brae Chase, This race has been known recently as the Horse & Jockey Hotel Chase.
The steeplechase usually takes place in January, or if scheduling doesn't allow then in early February; It is eligible for horses of six years old and older. The two mile and four furlongs long race is a Grade 2, after its promotion from Grade 3 status in 2013.
The winner can expect a significant chunk of the twenty-six thousand euro prize purse. Often you see horses who run in the race return, especially winners.
In 2015 and 2016, Gordon Elliott's Don Cossack ran out a victorious winner for jockey Bryan Cooper. However, Don Cossack doesn't hold the record for most successful horse in the history of the race; That title lies with Native Upmanship for trainer Arthur Moore.
Native Upmanship was victorious in 2002, 2003 and 2004, winning the three races by a total of 14.25 lengths overall after going odds-on favourite on every occasion.
| Month | Race | Distance |
| --- | --- | --- |
| January | Horse & Jockey Hotel Chase | 2 Miles 4 1/2 Furlongs |
| January | Coolmore N.H. Sires Capri Mares Novice Chase | 2 Miles 4 1/2 Furlongs |
| January | Coolmore Mares Novice Chase | 2 Miles 4 Furlongs |
| February | Michael Purcell Memorial Novice Hurdle | 2 Miles 4 Furlongs |
| March | Pierce Molony Memorial Novice Chase | 2 Miles 2 Furlongs |
| March | Native Upmanship Novie Chase | 2 Miles 2 Furlongs |
| November | John Meagher Memorial Chase | 2 Miles 6 Furlongs |
Legal Live Streams
The live streams that we feature here on StreamingSport.net are 100% legitimate and legal. There is not much point in taking a risk using one of the low-quality streaming services that abound.
It's much more important to do things the right way and keep your computer or mobile device free of viruses.
How it Works
We connect you with the leading sites that telecast live streams of horse racing events. They have already paid for the legal rights to broadcast them, so you might as well take advantage of it.
Further Live Stream Options
More legal live streams for horse racing can be found at the following sites. Similar conditions apply (i.e. having a deposit active or a bet in the past 24 hours):

– William Hill
– Betfred
– Coral

Last updated October, 2023
Here's the ideal way to get ready for the Thurles horse racing live stream.
This is a typical November day's racing highlights from Thurles. It includes the Killian Beginners Steeplechase and ends with the Horse & Jockey Handicap Hurdle.
Thurles Racing Live Stream FAQs
🎥 Do I need to pay a subscription for the Live Stream?
No, there is no subscription charge. You'll need to register on the site first, which only takes a minute.
🏇 Are there other races available, too?
Yes, there are many other races that you can watch – just take a look at the schedule.
⌚ When will the race coverage start?
The race coverage begins approximately two to three minutes before the race is scheduled.