Killarney Racecourse is a track situated in the South West of Ireland and it is home to both flat racing and National Hunt. You can watch a Killarney races live stream free from any subscription charges here.
See the details below which show you how to get access to the streaming action live and direct from Killarney.
How to Watch This LIVE Racing
#ad
1)
Sign up
to
bet365 here
if you are not already a member
2) Follow the 'Live Streaming' link and open the Schedule where you will see 'All Sports' > 'Horse Racing'
EVERY race in the UK and Ireland is streamed live
at bet365. They show all races shown on At The Races
and
Racing TV.
For additional/alternative viewing options, read on below under Legal Live Streams.
You can also watch replays of all UK and Irish races covered by Racing TV and At The Races for free on their Horse Racing Archive at bet365.
Only available to eligible customers. To watch a UK race streamed on At The Races you must have a funded account or have placed a bet in the last 24 hours. To watch any other racing that is not provided by At The Races from a UK track, you must place a qualifying bet of at least £0.50 win or £0.25 Each-Way (or currency equivalent) on your selection(s).Terms & conditions and geographical restrictions apply. Registration required. #ad 18+ gambleaware.co.uk
Killarney Upcoming Live Streamed Races
The track is one of the oldest in Ireland, with records showing that horse racing has been taking place at the venue since 1822.
Killarney Course Overview
Killarney town is a popular place for tourists, with visitors travelling from far and wide to see the sights on offer.
What with racing being incredibly popular in Ireland, this has consequently made the racecourse one of the popular attractions to visit. Thus, many sightseers end up booking their trips around when meetings will be held at the venue.
Flat Course
The flat track is an extremely sharp,short course. Being just nine furlongs long, the course itself infrequently hosts races over a mile long.
This in turn makes the manner in which the horses take the tight bend pivotal in how they get on – as they have a lot less time to recover from any mistakes, big or small.
The course itself doesn't have any draw bias and is seen as a very fair weighted track. The long straights allow for a lot of momentum and speed to be built up, especially the home straight.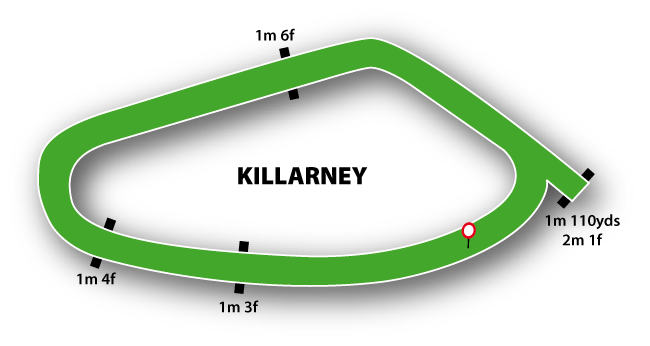 Killarney's flat track doesn't favour any horse in particular. With that being said, the nippier types are often able to break away from the bend better than the more well-built horses who sometimes find the sharpness of the bend a major inconvenience.
Jumps Course
Killarney Racecourse is, arguably, the most picturesque course in Ireland. The National Hunt side of things especially has its many admirers due to how the jumps on the backdrop of acres of countryside is nothing less than stunning.
The track is a large oval shape and is absolutely flat. This makes it popular amongst owners as it doesn't really favour any certain type of horse; Ironically, you'd say it was a level playing field when the horses set about their race.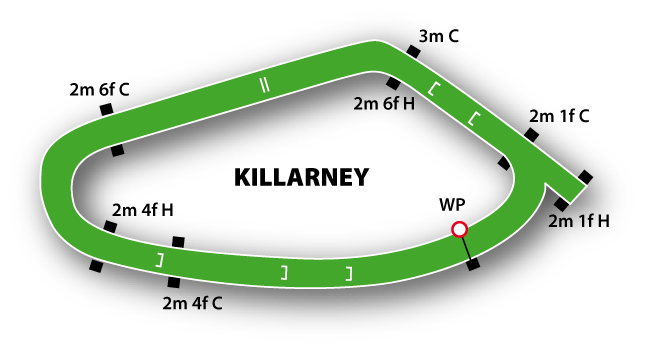 Equally to the flat course, the bends on the course are quite sharp. Which, when matched with how the one furlong home straight is, means that those who can get in the position coming off the bend often end up in the winners' enclosure or at least placing. 
The steeplechase course has six fences overall, one more than the number of flights there are on the hurdles circuit.
Viewing at Killarney Racecourse
Views of the hilltops and acres of greenery are the perfect backdrop to a day's racing. Killarney Racecourse makes the most of its scenic location by having placed restaurants and cafes in places with the best possible view.
If you are not watching the Killarney races live stream on your mobile, PC, laptop or tablet then a trip to Killarney is a trip worth making.
Killarney Race Calendar Highlights
Killarney hosts three festivals over the Summer and in turn some top quality horses travel to the Irish county to create some very exciting races. Two of the most notable races at Killarney are the Cairn Rouge Stakes and the Ruby Stakes.
The Cairn Rouge Stakes is a flat race that often takes place in July. The one mile race is of a Listed type and fillies/thoroughbred fillies can enter for the race as long as they are three years old or older.
The race itself is named after Cairn Rouge, an Ireland-born horse who won both the Coronation Stakes and the Irish 1000 Guineas in 1980. She then went on to win the Champion Stakes to cap off an incredibly successful year and earn her a 127 Timeform rating.
The Ruby Stakes is another one mile flat race for thoroughbreds of three years old or older. It is scheduled into the calendar to take place in August every year.
The race has only been held at Killarney Racecourse since 2009 after its original venue, Tralee, was permanently closed. Killarney race-goers won't complain though as the race is often a great spectacle due to how tight the races are.
| Month | Race | Distance |
| --- | --- | --- |
| May | An Riocht Chase | 2 Miles 4 1/2 Furlongs |
| July | Cairn Rouge Stakes | 1 Mile |
| July | Irish European Breeders Fund Median Sires Series | 1 Mile |
| August | K.W.D. Kingdom Gold Cup | 1 Mile 6 Furlongs |
| August | Ruby Stakes | 1 Mile |
| August | Download The Boylesports App Handicap Chase | 2 Miles 5 furlongs |
Legal Live Streams
The live streams that we feature here on StreamingSport.net are 100% legitimate and legal. There is not much point in taking a risk using one of the low-quality streaming services that abound.
It's much more important to do things the right way and keep your computer or mobile device free of viruses.
How it Works
We connect you with the leading sites that telecast live streams of horse racing events. They have already paid for the legal rights to broadcast them, so you might as well take advantage of it.
Further Live Stream Options
More legal live streams for horse racing can be found at the following sites. Similar conditions apply (i.e. having a deposit active or a bet in the past 24 hours):

– William Hill
– Betfred
– Coral

Last updated October, 2023
Here's the ideal way to get yourself ready to watch Killarney horse racing live stream.
Watch as Jessica Harrington's Drumfad Bay earns a hard-fought victory in the 2017 Cairn Rouge Stakes.
Killarney Races Live Stream FAQs
🎥 Do I need to pay a subscription for the Live Stream?
No, there is no subscription charge. You'll need to register on the site first, which only takes a minute.
🏇 Are there other races available, too?
Yes, there are many other races that you can watch – just take a look at the schedule.
⌚ When will the race coverage start?
The race coverage begins approximately two to three minutes before the race is scheduled.