Galway Racecourse is a flat and National Hunt racecourse located in the village of Ballybrit, Galway, Ireland. Racing fans can watch a Galway races live stream free of any subscription charges.
Read below as we show you how to get access to the live streaming direct from the famous course.
How to Watch This LIVE Racing
#ad
1)
Sign up
to
bet365 here
if you are not already a member
2) Follow the 'Live Streaming' link and open the Schedule where you will see 'All Sports' > 'Horse Racing'
EVERY race in the UK and Ireland is streamed live
at bet365. They show all races shown on At The Races
and
Racing TV.
For additional/alternative viewing options, read on below under Legal Live Streams.
You can also watch replays of all UK and Irish races covered by Racing TV and At The Races for free on their Horse Racing Archive at bet365.
Only available to eligible customers. To watch a UK race streamed on At The Races you must have a funded account or have placed a bet in the last 24 hours. To watch any other racing that is not provided by At The Races from a UK track, you must place a qualifying bet of at least £0.50 win or £0.25 Each-Way (or currency equivalent) on your selection(s).Terms & conditions and geographical restrictions apply. Registration required. #ad 18+ gambleaware.co.uk
Also referred to as the Ballybrit Racecourse, Galway hosts one of the country's most recognised and favourite horse racing festivals – the Galway Festival.
Galway Upcoming Live Streamed Races
| Date | Time | Race | Class | Distance |
| --- | --- | --- | --- | --- |
| 03 OCT 2023 | 13:50 | Tote Always SP Or Better At Galway Maiden Hurdle | - | 2m 160y |
| 03 OCT 2023 | 14:25 | Ryans Cleaning Handicap Hurdle | - | 2m 3f 19y |
| 03 OCT 2023 | 15:00 | Galway Handicap Hurdle (80-95) | - | 2m 160y |
| 03 OCT 2023 | 15:35 | Mongey Communications Chase | - | 2m 6f 210y |
| 03 OCT 2023 | 16:10 | Race In Pink Raceday On Sunday 29th October Beginners Chase | - | 2m 2f 110y |
| 03 OCT 2023 | 16:45 | Guinness Handicap Chase | - | 2m 2f 110y |
| 03 OCT 2023 | 17:20 | Student Raceday On October 30th Flat Race | - | 2m 160y |
Records show that the track dates back over 120 years, with the first ever racing seemingly taking place in 1869.
Galway Course Overview
Flat Course
The flat course is an incredibly tough ride for jockeys because the circuit is almost spherical; This means that horses are always running on a turn. The track is a mile and a quarter long and has a sharp home straight of just over a mile.
Those who leave their run from deep to the last minute need to manoeuvre round opponents on the bend, which can often lead to issues.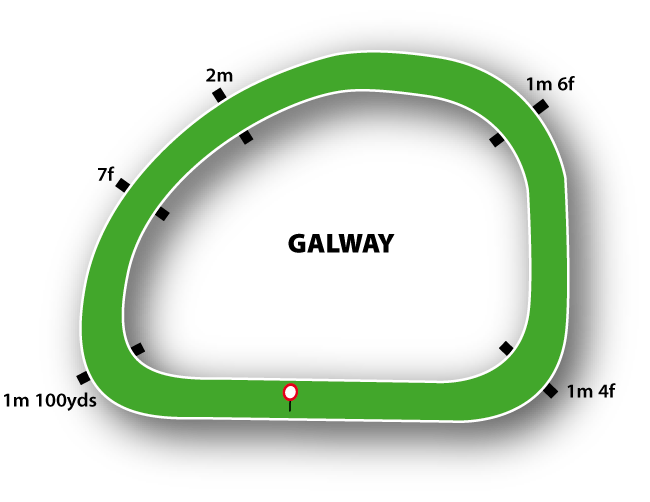 The sharp, turning nature of the course means that in-running issues is pretty much the norm and there are plenty of hard luck stories. The rail is the prime spot on nearly every track in the UK; However it is most important at Galway and therefore lower draws are preferred.
Those caught on the outside from the start must be a class above their competitors to overcome it. Additionally, the run up to the home straight is on a short incline, meaning tiring horses can often become obstacles for those looking for a late run.
This is especially so at Galway, as there are usually quite a few due to the big field races.
Jumps Course at Galway
The National Hunt track is also a course that produces both course specialists and in-running drama. Essentially circle shaped, the right-handed track is slightly lover ten furlongs long. It has a stiff uphill climb before turning into the home straight, which is two furlongs long.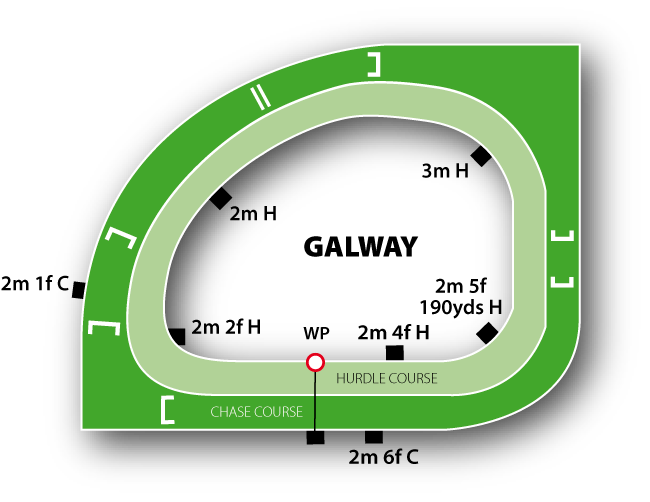 The chase course has seven fences overall; Two on the home straight after the steep downhill run. This can often lead to a few fallers because the hill is at a gradient which makes it almost impossible not to build up a lot of speed and momentum. For some, it means the first fence can come too soon.
The hurdles track, found within the chase circuit, is a lot sharper than the other courses and has a home straight of just over a furlong with a hurdle there, meaning if you are neck and neck with another jumper and don't tackle the jump well then you are likely to be looking at second place rather than first.
Viewing at Galway Racecourse
Galway Racecourse is a track well worth visiting, especially because all the tight and competitive action is visible from the two magnificent stands. The Killarnin Stand and the Millennium Stand both enjoy panoramic views of the entire track, as well as the miles of green grass that the venue has too.
If you are looking for a proper days Irish racing then Galway is a course that should most definitely be considered, especially with many of the best Irish yards, especially the O'Briens, using the track as a place to put some of their top prospects to the test on a course that doesn't suit all.
Galway Race Calendar Highlights
| Month | Race Stream | Distance |
| --- | --- | --- |
| July | Corrib Fillies Stakes | 7f |
| July / Aug | Galway Plate | 2m 6f |
| July / Aug | Galway Hurdle | 2m |
| September | Oyster Stakes | 1m 4f |
| September | Ballybrit Novice Chase | 2m 1f |
With seven days of incredibly tight and competitive races, the Galway Festival is incredibly popular amongst racing pans and punters. The races at the festival do have a good selection of prize pots, meaning owners do try and get handicap marks in the runup to the festival reduced.
That's so they have the best chance of winning – this also links to how popular the course is amongst punting stables as they do cash in.
The most popular race in the entire week of flat and National Hunt racing at the Galway festival is the Galway Hurdle, which has recently become Ireland's biggest prize-winning race.
The handicap race is minimally over two miles long and horses that are four years old and older are able to enter. The most successful owner in the race has been Willie Mullins with his four Galway Hurdle winners, with three of those coming in the last five years.
Legal Live Streams
The live streams that we feature here on StreamingSport.net are 100% legitimate and legal. There is not much point in taking a risk using one of the low-quality streaming services that abound.
It's much more important to do things the right way and keep your computer or mobile device free of viruses.
How it Works
We connect you with the leading sites that telecast live streams of horse racing events. They have already paid for the legal rights to broadcast them, so you might as well take advantage of it.
Further Live Stream Options
More legal live streams for horse racing can be found at the following sites. Similar conditions apply (i.e. having a deposit active or a bet in the past 24 hours):

– William Hill
– Betfred
– Coral

Last updated October, 2023
Here's a taste of what to expect to see on the Galway horse racing live stream.
Watch Willie Mullins win his third Galway Hurdle as his son, Patrick, does incredibly well to win with Sharjah from top weight. There were quite a few unlucky losers in the race; See if you can spot them!
Galway Races Live Stream FAQs
🎥 Do I need to pay a subscription for the Live Stream?
No, there is no subscription charge. You'll need to register on the site first, which only takes a minute.
🏇 Are there other races available, too?
Yes, there are many other races that you can watch – just take a look at the schedule.
⌚ When will the race coverage start?
The race coverage begins approximately two to three minutes before the race is scheduled.