Sligo Racecourse is an Irish horse racing track that hosts both flat and National Hunt racing in Sligo. Horse racing fans can watch a Sligo races live stream free from subscription charges.
Read below for the details showing how to gain access to the live streaming action.
How to Watch This LIVE Racing
#ad
1)
Sign up
to
bet365 here
if you are not already a member
2) Follow the 'Live Streaming' link and open the Schedule where you will see 'All Sports' > 'Horse Racing'
EVERY race in the UK and Ireland is streamed live
at bet365. They show all races shown on At The Races
and
Racing TV.
For additional/alternative viewing options, read on below under Legal Live Streams.
You can also watch replays of all UK and Irish races covered by Racing TV and At The Races for free on their Horse Racing Archive at bet365.
Only available to eligible customers. To watch a UK race streamed on At The Races you must have a funded account or have placed a bet in the last 24 hours. To watch any other racing that is not provided by At The Races from a UK track, you must place a qualifying bet of at least £0.50 win or £0.25 Each-Way (or currency equivalent) on your selection(s).Terms & conditions and geographical restrictions apply. Registration required. #ad 18+ gambleaware.co.uk
Sligo Upcoming Live Streamed Races
Horse racing has been taking place in the area since 1781.
Sligo Course Overview
According to records, the track they use today at Sligo was built in 1955. However, in recent years it has been renovated massively to give it some of the best facilities in Ireland.
Despite only hosting eight meetings a year, the course is very popular amongst locals. Perhaps a major reason is its accessibility which brings a good amount of tourism into the area on those racing days.
Flat Course
The flat course you'll see on the live stream is one of the most difficult rides around. The right-handed circuit is a mile long oval course that is a stiff oval shape. The run to the home straight is a steep uphill climb which is approximately two furlongs long.
This climb is often make-or-break for competitors; That's because if they have nothing left in the tank, they gradually fall down the places. Those who have travelled well up to that stage can stay in cruise control and breeze towards the finish line.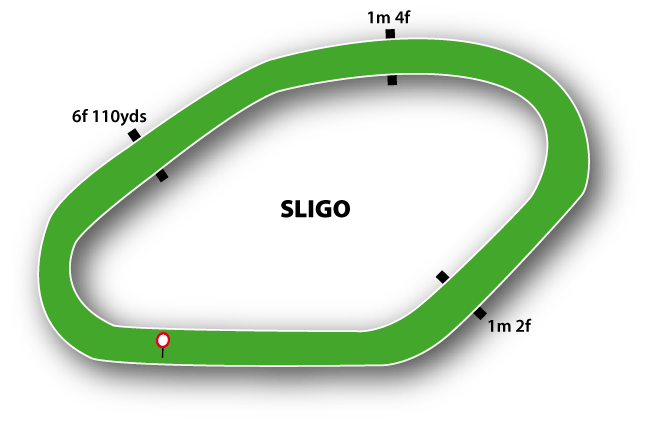 However, the final furlong battle isn't the only inconvenience that runners must deal with when circuiting the course. The track is always on a turn which means that there is a strong bias to the rail as it is the shortest route.
In the opening stages of races, you can watch jockeys battle to lead and have the rail as they get a prime route; However, if these battles use a significant amount of energy they will definitely regret it when facing that uphill finish!
Sligo Races' Jumps Course
The National Hunt track at Sligo is another tricky circuit. It produces specialist horses and jockeys that have perfected the journey around the one-mile long track. The course is a sharp, right-handed track which can often throw up some unlikely winners. It often pays off to front-run. 
The chase circuit has just five fences, with the most significant being after a steep uphill climb after where the home straight is.
Because of the the momentum built up coming down the hill, it sometimes leads to a misjudgement of the fence. Other horses sometimes have the wrong footing as they attempt the jump, leading on an off-step and therefore not jumping how they usually do. This, of course, can lead to them falling.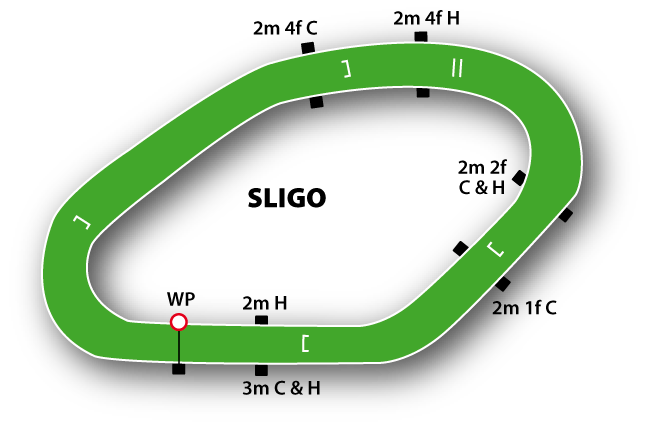 Both the National Hunt course and the flat course are also seen as tricky courses to ride and also bet on because of how the ground is. The tracks are built slightly bowl-shaped which therefore means that when it rains the ground gets very heavy, very quickly.
The shape of the course means that water drains inwards, towards the inside rail, which is where most of the runner's ride because the track is so sharp that the inside route is the shortest and easiest route.
Often, when the ground becomes heavy, horses either relish in it or they hate it. The ground absorbs so much water because of how much is drained into it that it becomes very boggy and sticky; Some horses enjoy that, and they can canter through the mud bath. On the flip side, others hate it and struggle to stride through it.
Viewing at Sligo Racecourse
But the horse racing action isn't the only thing that spectators visit the racecourse for, the views from the north-westerly course are simply stunning. With views over Sligo Town in the foreground and a backdrop of the countryside of Benbulen.
The hilltops and lakes surrounding Sligo are all visible from the course and make for some brilliant photographs and can almost be a distraction to the races going on!
Sligo Racecourse is a charming, proper Irish track. It has everything that a racegoer would need for a brilliant day out; A great grandstand, a few restaurants, plenty of viewing spots and a solid flow of top horses coming to the track to race. The parking at the course is also free as well, which is always a nice bonus.
Sligo Races Live Stream Calendar Highlights
These are some of the best races that you can watch on the Sligo horse racing live stream:
| Month | Race | Distance |
| --- | --- | --- |
| July | Kevin Egan Cars Opportunity Handicap Hurdle | 2 Miles |
| August | Adare Manor Opportunity Handicap Hurdle | 3 Miles |
| August | Irish European Breeders Fund Median Sires Series Fillies Maiden | 5 1/2 Furlongs |
| August | Irish Stallion Farms European Breeders Fund Connacht Oaks Fillies Handicap | 1 Mile 4 1/2 Furlongs |
| August | Kevin Egan Cars Handicap | 1 Mile 2 Furlongs |
| September | Frank O'beirne Memorial Handicap Chase | 2 Miles 2 Furlongs |
Legal Live Streams
The live streams that we feature here on StreamingSport.net are 100% legitimate and legal. There is not much point in taking a risk using one of the low-quality streaming services that abound.
It's much more important to do things the right way and keep your computer or mobile device free of viruses.
How it Works
We connect you with the leading sites that telecast live streams of horse racing events. They have already paid for the legal rights to broadcast them, so you might as well take advantage of it.
Further Live Stream Options
More legal live streams for horse racing can be found at the following sites. Similar conditions apply (i.e. having a deposit active or a bet in the past 24 hours):

– William Hill
– Betfred
– Coral

Last updated October, 2023
Here's the ideal way to get ready for the Sligo races live stream.
To give you a flavour of what a day at Sligo Racecourse looks like, watch this compilation of races from the 2nd July 2020.
Sligo Races Live Stream FAQs
🎥 Do I need to pay a subscription for the Live Stream?
No, there is no subscription charge. You'll need to register on the site first, which only takes a minute.
🏇 Are there other races available, too?
Yes, there are many other races that you can watch – just take a look at the schedule.
⌚ When will the race coverage start?
The race coverage begins approximately two to three minutes before the race is scheduled.