Gowran Park is a National Hunt and flat racing racecourse situated in County Kilkenny, Ireland. Horse racing fans are able to watch a Gowran Park live stream free of any subscription charges.
See the details below where we show you how to access to the live streaming action.
How to Watch This LIVE Racing
#ad
1)
Sign up
to
bet365 here
if you are not already a member
2) Follow the 'Live Streaming' link and open the Schedule where you will see 'All Sports' > 'Horse Racing'
EVERY race in the UK and Ireland is streamed live
at bet365. They show all races shown on At The Races
and
Racing TV.
For additional/alternative viewing options, read on below under Legal Live Streams.
You can also watch replays of all UK and Irish races covered by Racing TV and At The Races for free on their Horse Racing Archive at bet365.
Only available to eligible customers. To watch a UK race streamed on At The Races you must have a funded account or have placed a bet in the last 24 hours. To watch any other racing that is not provided by At The Races from a UK track, you must place a qualifying bet of at least £0.50 win or £0.25 Each-Way (or currency equivalent) on your selection(s).Terms & conditions and geographical restrictions apply. Registration required. #ad 18+ gambleaware.co.uk
Gowran Park Upcoming Live Streamed Races
| Date | Time | Race | Class | Distance |
| --- | --- | --- | --- | --- |
| 05 JUN 2023 | 14:05 | Winton Fillies Maiden | - | 7f |
| 05 JUN 2023 | 14:37 | Sonix Entertainment Handicap | - | 7f |
| 05 JUN 2023 | 15:07 | Good Enuf To Eat Caterers At Gowran Park Apprentice Handicap (47-65) | - | 1m |
| 05 JUN 2023 | 15:37 | Kings Of Ossory (C & G) Maiden | - | 1m 1f 100y |
| 05 JUN 2023 | 16:07 | Irish Stallion Farms EBF Median Auction Maiden | - | 1m 1f 100y |
| 05 JUN 2023 | 16:37 | Ladies Day July 29th Handicap | - | 1m 1f 100y |
| 05 JUN 2023 | 17:07 | Gowran Park Golf Club Handicap (47-65) | - | 1m 1f 100y |
According to records, the first ever meeting at Gowran Park took place in 1914. Since then, the track has grown in popularity amongst both racing fans and officias; The venue now hosting 17 meetings per year.
Gowran Park Course Overview
Being perfectly placed amongst some of Ireland's finest training and breeding facilities, the track is often treated to some good quality races.
It is often a course used by owners to give debutants a taste of a race. Because of this, you may well be able to watch to some top quality prospects at Gowran Park.
Flat Course at Gowran Park
The flat course is a mile and a half long, oval-shaped circuit. Despite some uphill patches, the track is quite flat and characteristically is a galloping track. However, the most significant part of the course that isn't flat is certainly the home straight, a three furlong long uphill climb.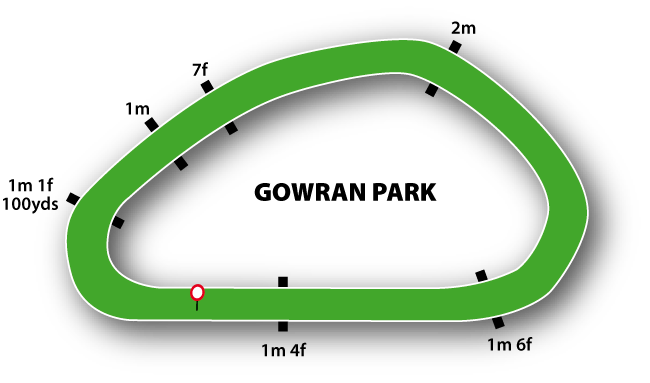 The rising ground is often a huge hindrance for those that choose to come off the pace due to the traffic problems it creates and how tricky it is to make up ground on a hill, thus front-runners are often prepared.
The bends on the course aren't very sharp and are quite spacious; However in the 7f races, the first bend is almost immediate. This, of course, means that there is a low draw bias for that length race.
If you have a high draw and are caught out wide, then the horse has a significant amount of ground to make up round the outside and are running further than those neatly tucked in up against the rail.
Therefore, unless the horses drawn wide have a lot of talent or weight in hand then they could be in trouble.
Jumps Course
The National Hunt course is strikingly similar to the flat course; Oval-shaped, one mile and a half long, galloping track and an uphill home straight. For a National Hunt track, Gowran Park is a lot trickier than others, which can be surprising given how it looks a nice track on paper.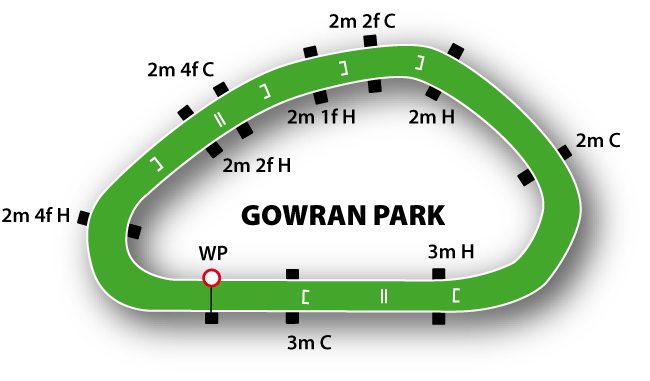 The course is a lot more undulating than the flat course and has more up-and-down segments. The chase course has seven fences and the hurdles course has eight, with just a furlong long run-in. As it's an all-year round course, the track does quite literally go through the weather.
When the ground is declared as good then jockeys hardly have to spare a thought about the potential surface when they're out there. However, when there has been rain and the ground becomes soft or heavy then the course becomes even more of a struggle.
Given how the uphill home straight will be a struggle anyway, when the surface becomes stodgy and heavy then this becomes a true test; Both of stamina and the determination of runners.
Gowran Park Calendar Highlights
Both sides of racing at Gowran Park host some good quality races; But the most significant across both types of racing is the Thyestes Chase which opens the National Hunt season.
The Thyestes is a three mile and one furlong long handicap steeplechase, a real test of stamina. Horses of five year and older are able to enter into the 18-runner field.
The race is oft used as an indicator for owners for whether their runners are capable of going for the Grand National at Aintree later on in the year. That's due to the distance being so long and there being a lot of jumps, 17 fences in all.
It is very rare that you will see a runner in the National that didn't perform well in the Thysetes.
However, you are more likely to see the opposite; Previously Hedgehunter (2005) and Numbersixvalverde (2006) both won the prestigious prize following a success in the Gowran Park race.
These are some of the more notable races that you can watch on the Gowran Park live stream:
| Month | Streamed Race | Distance |
| --- | --- | --- |
| January | Galmoy Hurdle | 3m |
| January | Thyestes Chase | 3m |
| February | Red Mills Chase | 2m 4f |
| February | Red Mills Trial Hurdle | 2m |
| April | Victor McCalmont Memorial Stakes | 1m 1f 100y |
| May | Vintage Tipple Stakes | 1m 6f |
| September | Denny Cordell Lavarack Fillies Stakes | 1m 1f 100y |
| October | Gowran Park Champion Chase | 2m 4f |
Viewing at Gowran Park Racecourse
It isn't just the great racing that draws in the crowds – fans also love the racecourse itself.
The venue isn't overly fancy and keeps it simple and minimal; This gives spectators everything that they could possibly want for a good day out without going the extra mile to create a place that isn't really centred on racing.
The grandstand is small but still has a good capacity. That said, there are also a lot of areas to stand and watch the horses sprint up to the line. Gowran Park is definitely a course that should be on the bucket list for racing fans in Ireland.
Legal Live Streams
The live streams that we feature here on StreamingSport.net are 100% legitimate and legal. There is not much point in taking a risk using one of the low-quality streaming services that abound.
It's much more important to do things the right way and keep your computer or mobile device free of viruses.
How it Works
We connect you with the leading sites that telecast live streams of horse racing events. They have already paid for the legal rights to broadcast them, so you might as well take advantage of it.
Further Live Stream Options
More legal live streams for horse racing can be found at the following sites. Similar conditions apply (i.e. having a deposit active or a bet in the past 24 hours):

– William Hill
– Betfred
– Coral

Last updated June, 2023
See if you can remember this race. It will give you an example of what you will see on the live Gowran Park racing stream.
Watch Willie Mullins' Total Recall record an unexpected but deserved victory in the 2020 Thyestes Handicap Chase. The victory was by just under six length, leaving stablemate Class Conti to collect the minor honours.
The quality on this video is great but you'll notice quite a thick fog. This shows just how the live streaming of a horse race can be better than being at the course.
Gowran Park Live Stream FAQs
🎥 Do I need to pay a subscription for the Live Stream?
No, there is no subscription charge. You'll need to register on the site first, which only takes a minute.
🏇 Are there other races available, too?
Yes, there are many other races that you can watch – just take a look at the schedule.
⌚ When will the race coverage start?
The race coverage begins approximately two to three minutes before the race is scheduled.